A sociable space in the home that welcomes friends and family to eat, drink and be entertained, your dining room paint ideas should create a welcoming and impressionable environment where people will not want to leave.
When considering dining room ideas, using paint is a simple way to add color and character to the space, and as this room is not used as much as the others in the home, it provides the perfect opportunity to be bold and adventurous with paint ideas.
Whether your dining room is only used for special occasions and dinner parties, or used everyday with family, embracing dining room paint ideas can create an inviting atmosphere for all to enjoy.
Dining room paint ideas – 13 colors to inspire your next update
From bold painted murals to calming neutral shades, explore our top dining room color ideas with paint for some timeless inspiration.
1. Be bold with paint ideas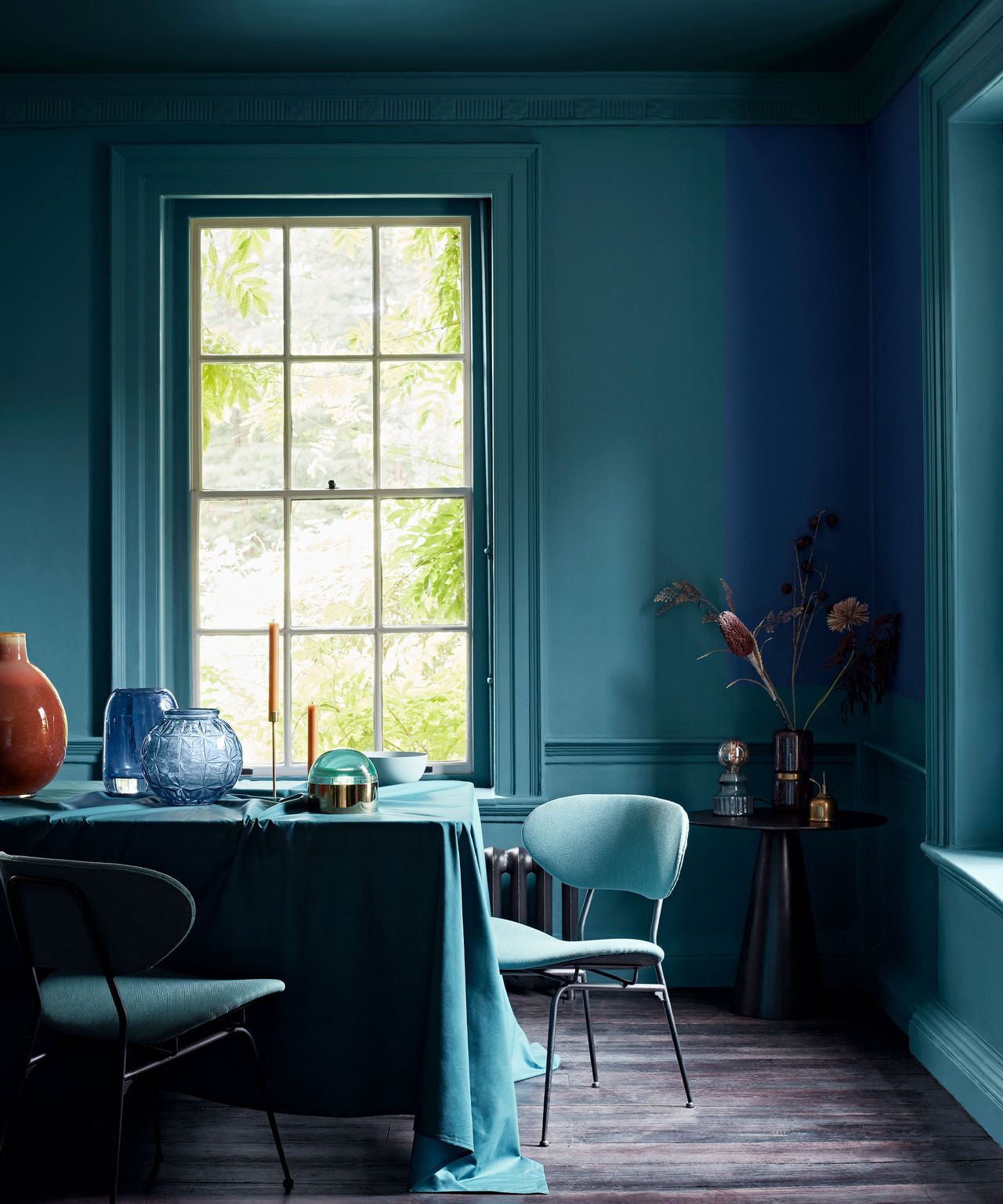 As the dining room is mainly used as a sociable, entertaining space, why not go all-out with your dining room paint ideas to create an unforgettable atmosphere. 
In this beautiful blue dining room, painted in Teal & Midnight Navy by Crown Paints the stand-out monochromatic color scheme creates a rich and vibrant space that is bursting with colorful charm. Even though the use of paint in this room is daring, the chosen blue shades create a sophisticated atmosphere of elegance and calm. 
Painting the walls and ceiling the same color and enhancing with coordinating furniture and accessories will ensure for a bold and distinguished design.
2. Use paint to complement your wallpaper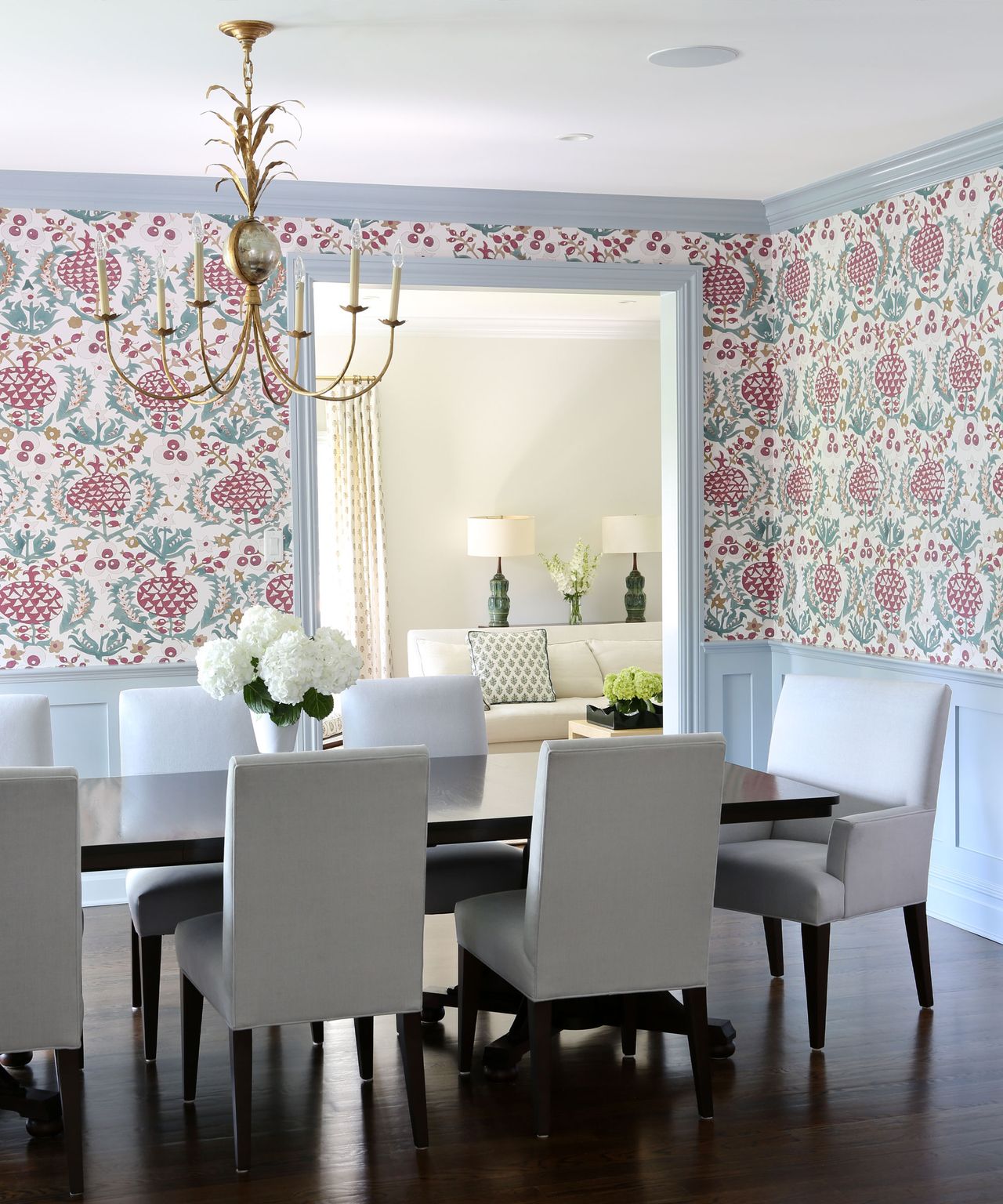 A great way to further enhance your dining room wallpaper ideas, using paint to complement your chosen design can elegantly frame the wallpaper as well as create a striking accent color in the space, great for accent color ideas.
In this dining room, designed by Elizabeth Cooper Interior Design, she states of the process, 'we wanted the wallpaper in this room to be distinctive and unique, and not too matchy-matchy, while also working well with the living room color palette because the two rooms are immediately adjacent to each other. The paneling is painted in a beautiful blue-gray by Portola Paints.'
The soft blue-gray shade perfectly coordinates with the colorful wallpaper, and adds a contemporary twist to the traditional coving and paneling features.
3. Paint the dining room ceiling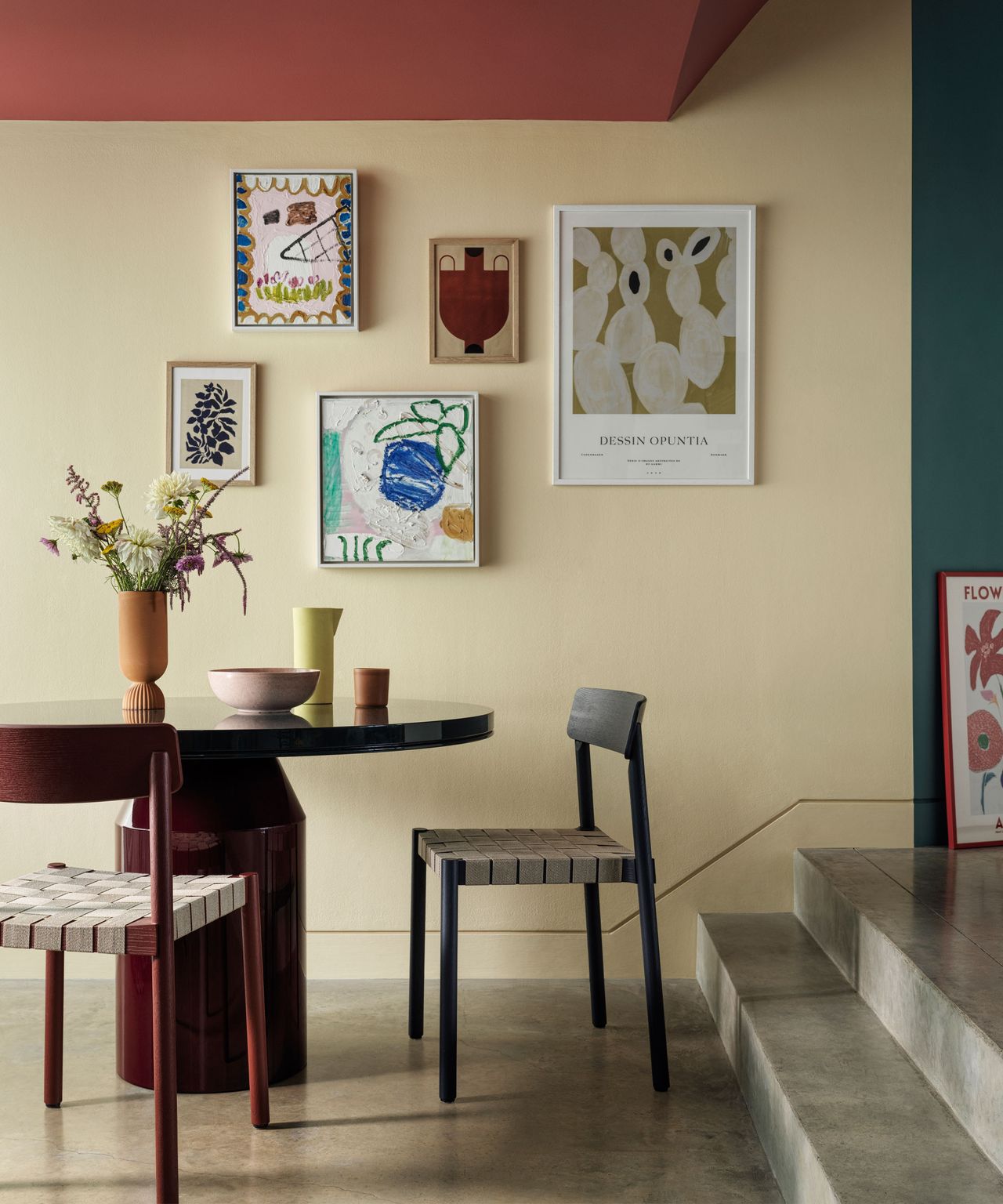 If you want to create a stand out statement with your dining room paint ideas, why not paint the ceiling.
Tash Bradley, Lick's Director in Interior Design states, 'painting a ceiling can create both a grand and cozy atmosphere simultaneously, and picking a statement color like red or teal can create a real talking point.'
This dining room space beautifully embraces colorful paint ideas, the painted red ceiling makes a soft statement, further enhanced by the red accessories and furniture pieces. The overall muted color palette used throughout this dining space is both adventurous and subtle at the same time, creating an inviting area that is rich with personality.
4. Use an earthy palette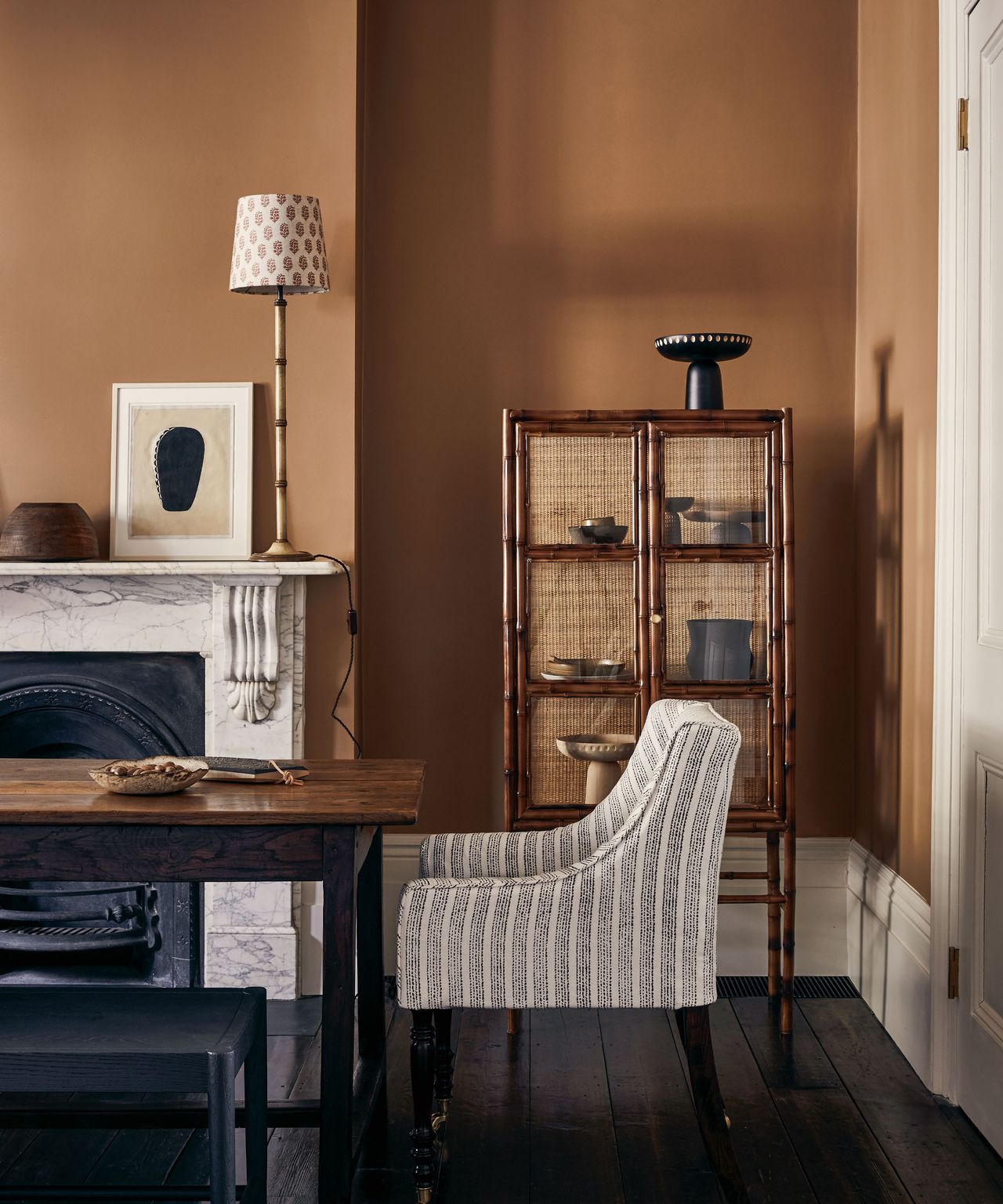 An earthy palette often refers to paint colors that are shades of brown or colors that take inspiration from nature. If you want your dining room space to be snug and cozy, using a soothing, earthy palette is a simple way to achieve this.
In this dining room, the rich, brown painted walls creating a warm and welcoming space. Complemented by natural materials such as the dark wood dining table and rustic storage cabinet, the overall deign is a celebration of the colors and materials found in the natural world.
5. Create a striking mural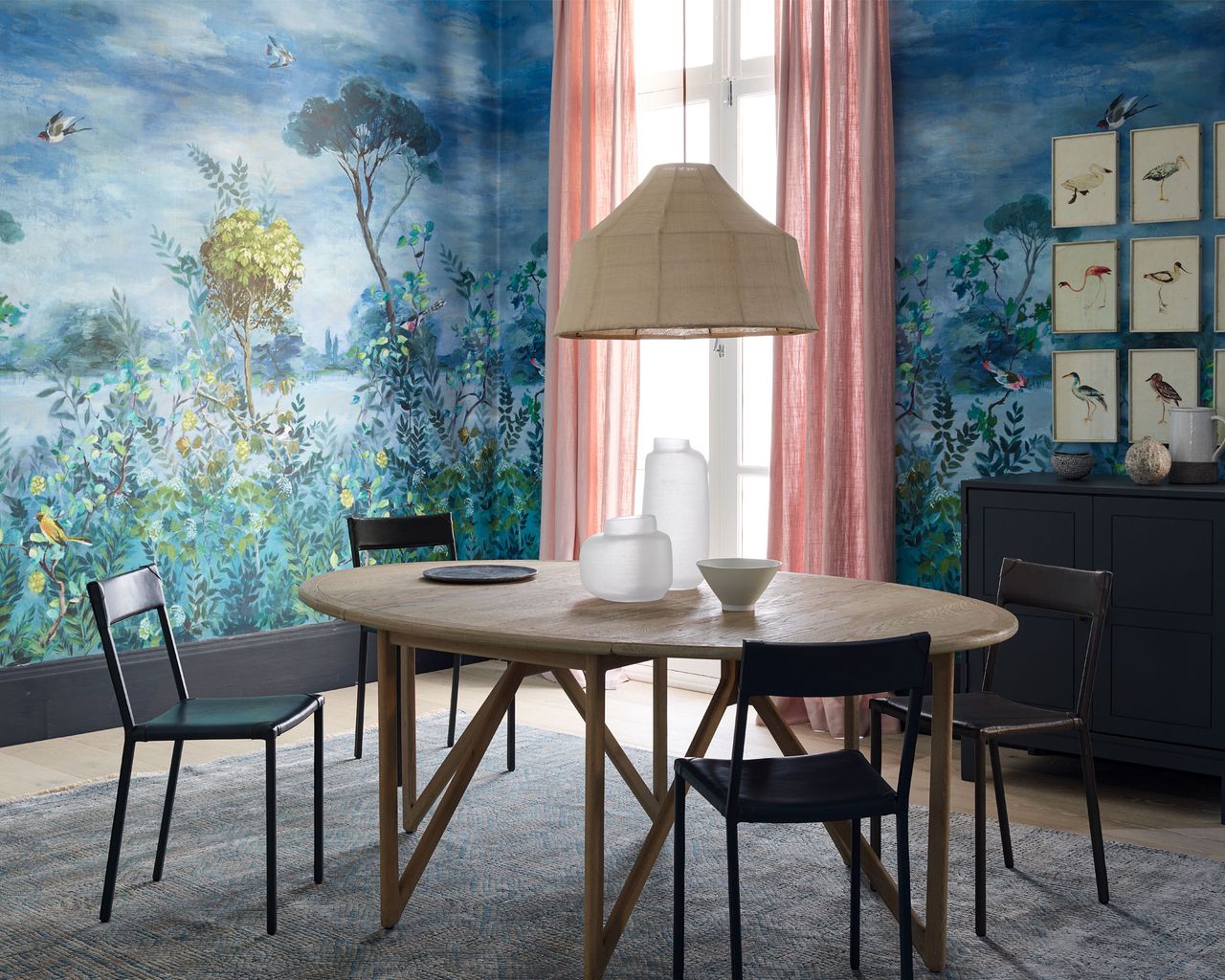 When considering wall mural ideas for your home, the dining room provides the perfect place to be bold and beautiful with paint and artwork.
'The dining room is a space for socializing and entertainment, and what could be better than creating a stand our mural that ignites conversation and excitement when people enter the room,' says says Homes & Gardens' editorial director Sarah Spiteri.
In this dining room, the stunning painted wall mural wraps around the room, charmingly transporting you to the outside world. The intricate, natural landscape design is enhanced by a pretty palettes of blues, creating both a striking and relaxing design that is a feast for the eyes and an excellent choice for dining room wall ideas.
6. Paint the furniture in your dining room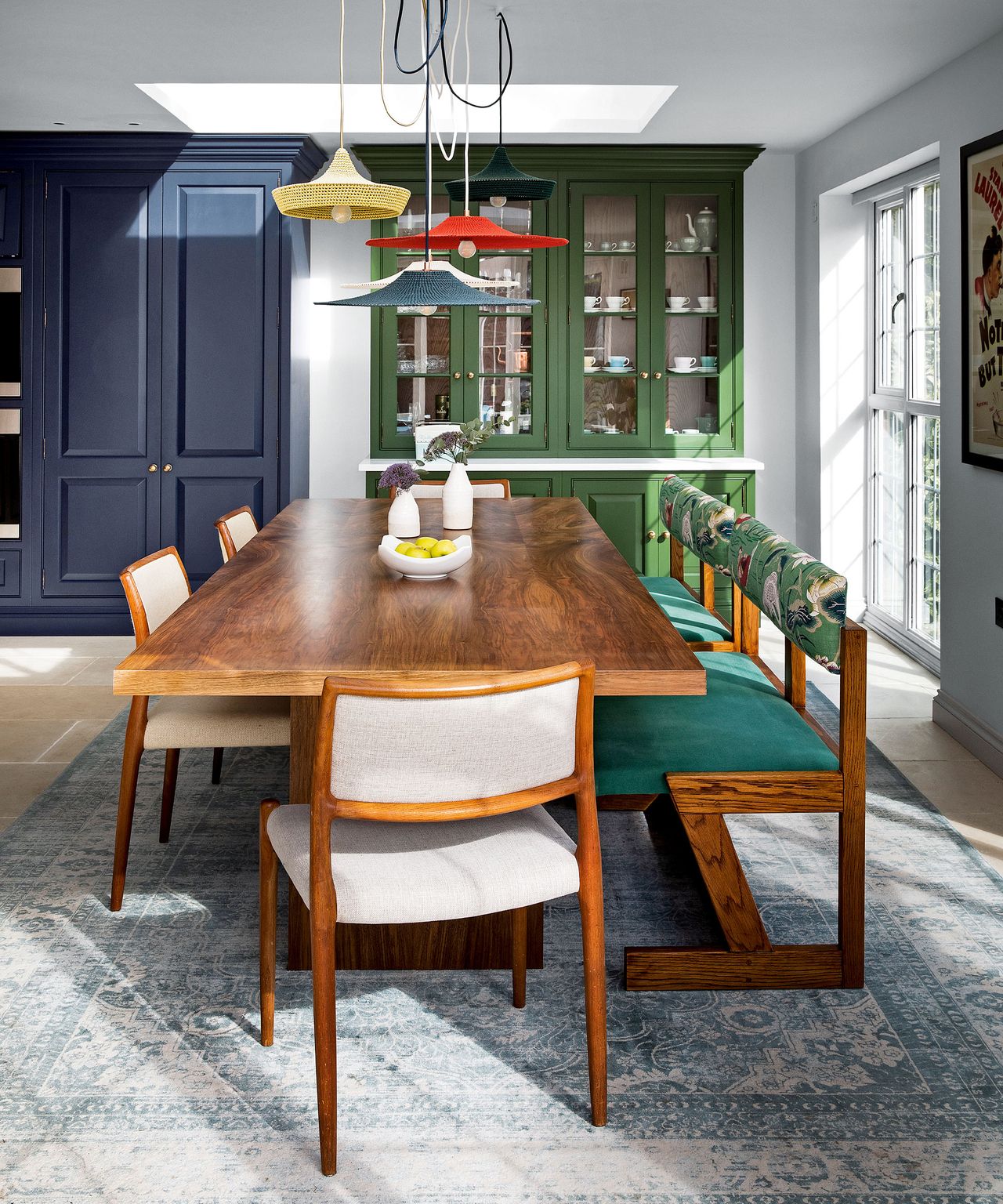 If you want inject an element of color to your dining room space but do not want to paint the walls, learning how to paint wood furniture can breath a new lease of life into furniture designs both traditional and contemporary. 
In this open-plan kitchen-diner space, the floor to ceiling cabinets do not blend into the background, quite the opposite, the contrasting paint colors used create a stylish focal point and feature out of regular storage and display units. Complemented by the colorful hanging light shades and seat upholstery, the mix of materials, colors and patterns in this dining space create an eclectic, characterful look.
7. Embrace an all-white scheme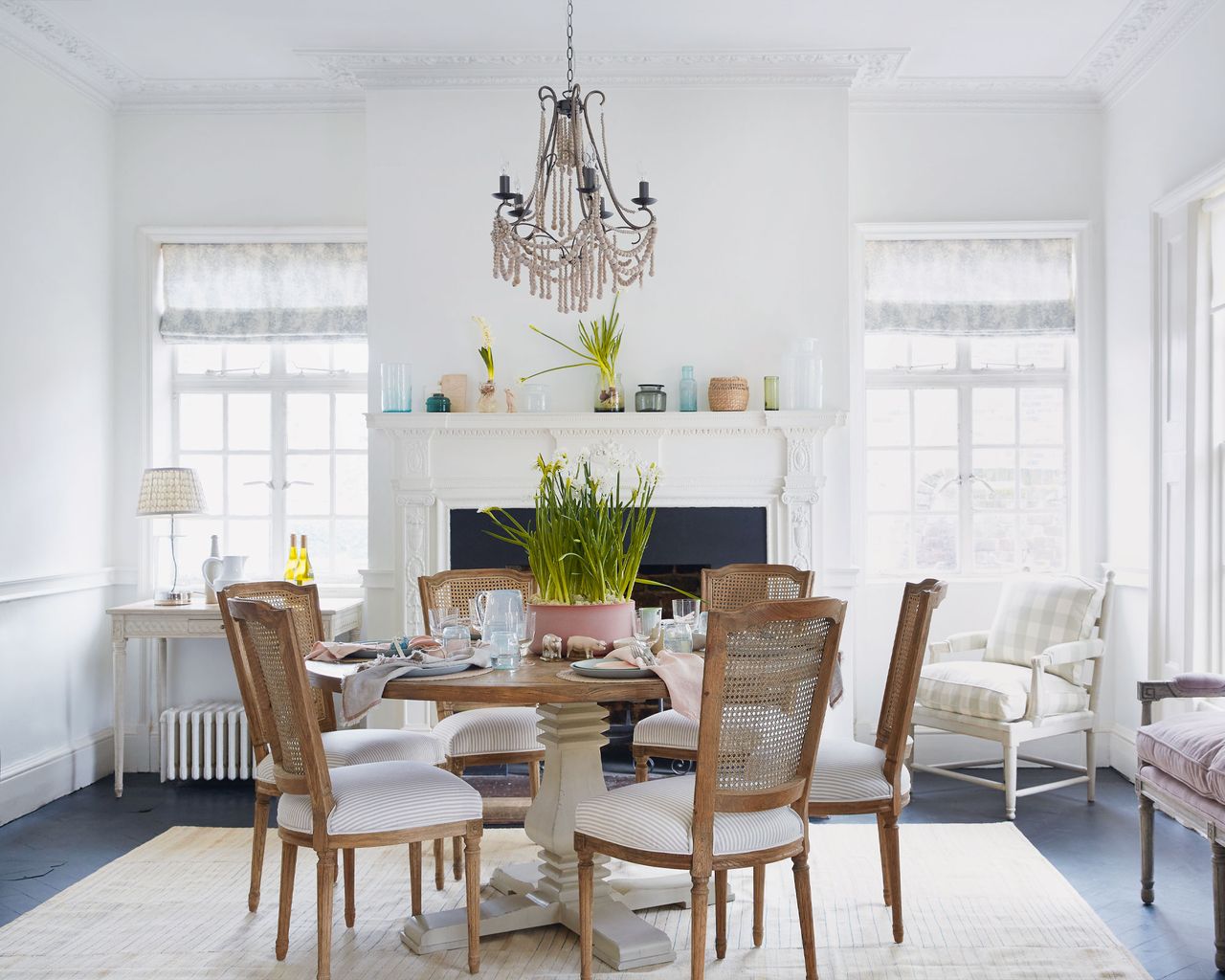 For a serene and calming look for your dining room paint ideas, embracing and all-white scheme will always prove successful. 
'Decorating with white can make a space feel fresh and sophisticated, and allows for you to add color and character through your furniture pieces and accessories. A great color to use to make a room feel spacious, white paint may seem like a simple option, but used in the right way, it will create a dining room space that is elegant and timeless,' says Homes & Gardens' editor in chief Lucy Searle.
In this relaxed, Boho-style dining room, the white paint complements the abundance of natural light that floods in to the room, creating a bright, and uplifting space for family and friends to relax in and enjoy.
8. Create a colorful feature wall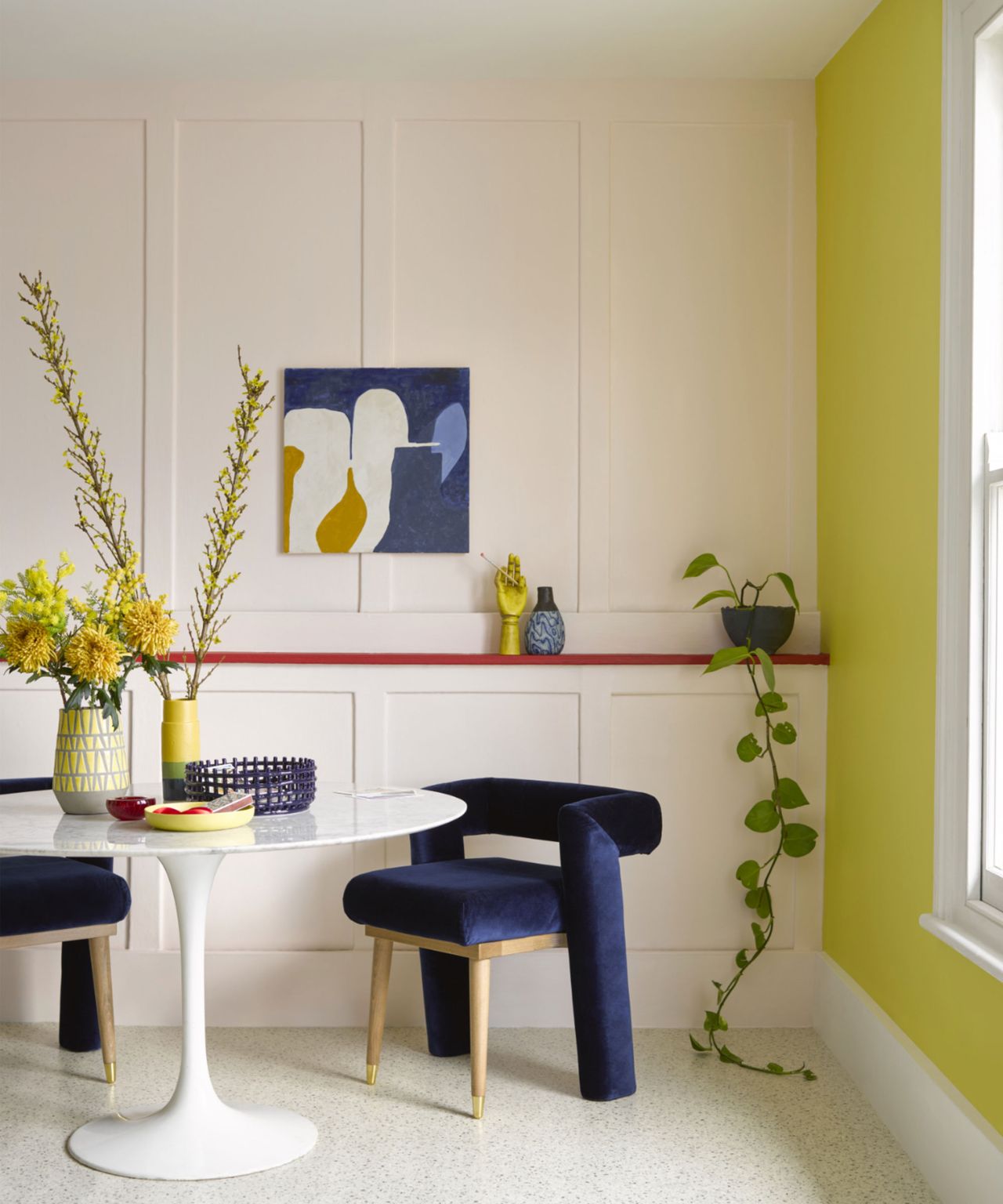 Whether you want to create an element of contrast or elevate an accent color for your dining room paint ideas, painting a feature wall can make a colorful, eye-catching statement. 
In this dining room, painted in shades Soft Pink, Chilli Pepper and Yellow Finch by Benjamin Moore, within this beautiful mix of colors, the bright yellow creates an uplifting and playful feature wall, and establishes an elegant contrast with the blue upholstery and decorative accent pieces.
With the help and knowledge of the color wheel, you can create unique, painted color combinations for your dining room to make it a show stopping space.
9. Use a calming cream for a relaxed look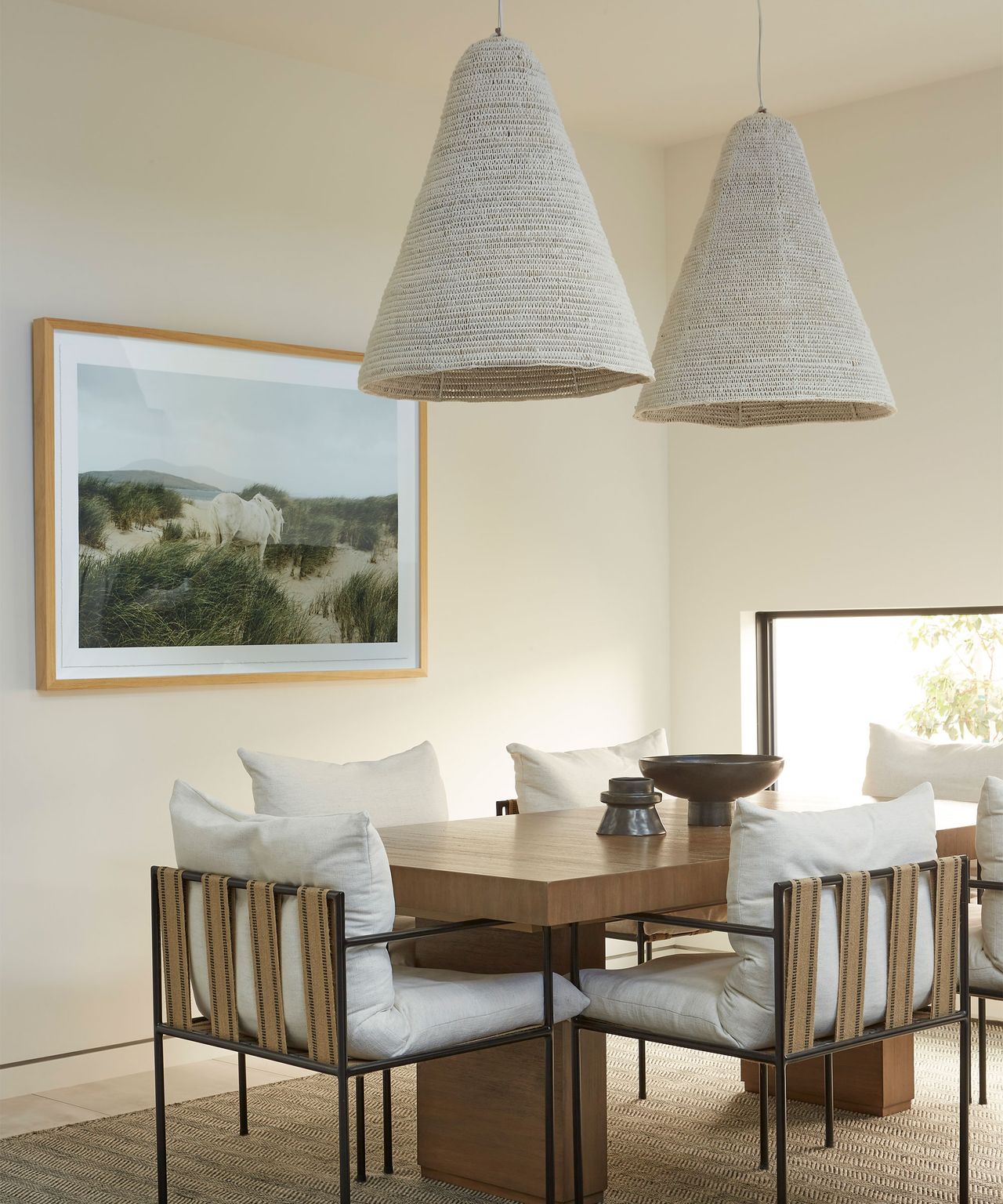 An enduring neutral shade that is soothing and relaxed, cream paint ideas for your dining room cam create a truly tranquil space.
In this dining room, desig
ned by Lucie Ayres from 22 Interiors, she states that the goal 'was all about adding organic forms and warmth throughout', she then says of her clients reaction to her finished design, 'they are obsessed with the level of comfort in every area – especially the dining room as they do typically love to entertain.'
This dining room space creates an enhanced atmosphere of inviting comfort. The cream paint on the walls beautifully sets the scene, and is complemented by the natural textures and soft upholstery used throughout. As the dining room is a space you can spend long periods of time with friends and family, creating a soft and comforting space will make everyone feel at home and at ease.
10. Create an impact with dark paint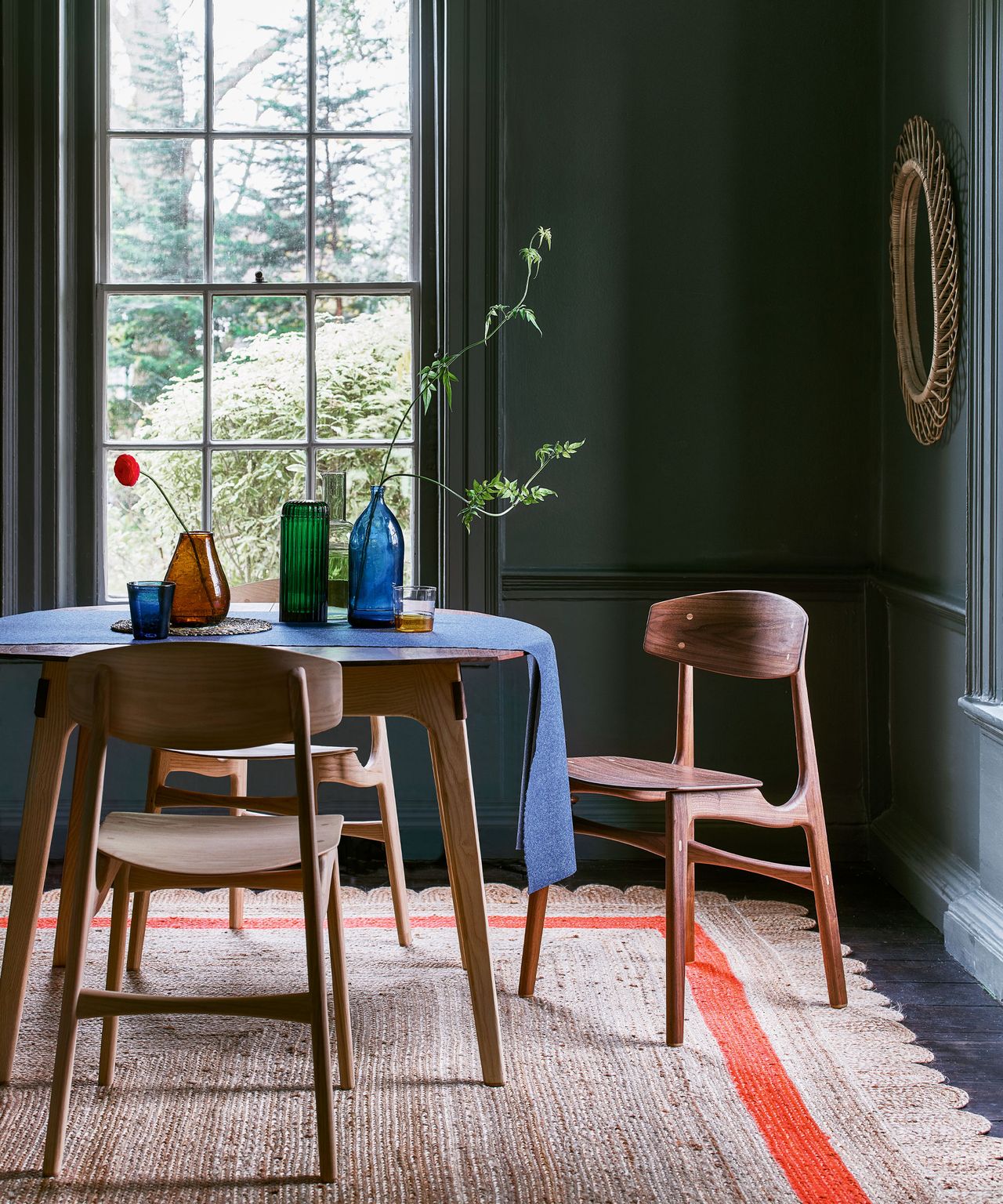 Dark paint ideas are often associated with period properties and traditional dining room ideas, however, do not be afraid to use darker paint shades for modern dining room ideas as they can create an alluring, elegant atmosphere.
Tash Bradley from Lick states, 'if your dining room does not get much natural light, use and amplify this feature, be adventurous and embrace the darkness'.
The dark, blue-gray paint used in this dining room creates a cozy, cocooned feel, and adds a contemporary twist to the traditional paneled walls – one to remember for paneling paint ideas. The dark paint is balanced out by the warming wooden furniture pieces and textured natural materials, with the end result being a sophisticated mix of the old and new.
11. Elevate a traditional space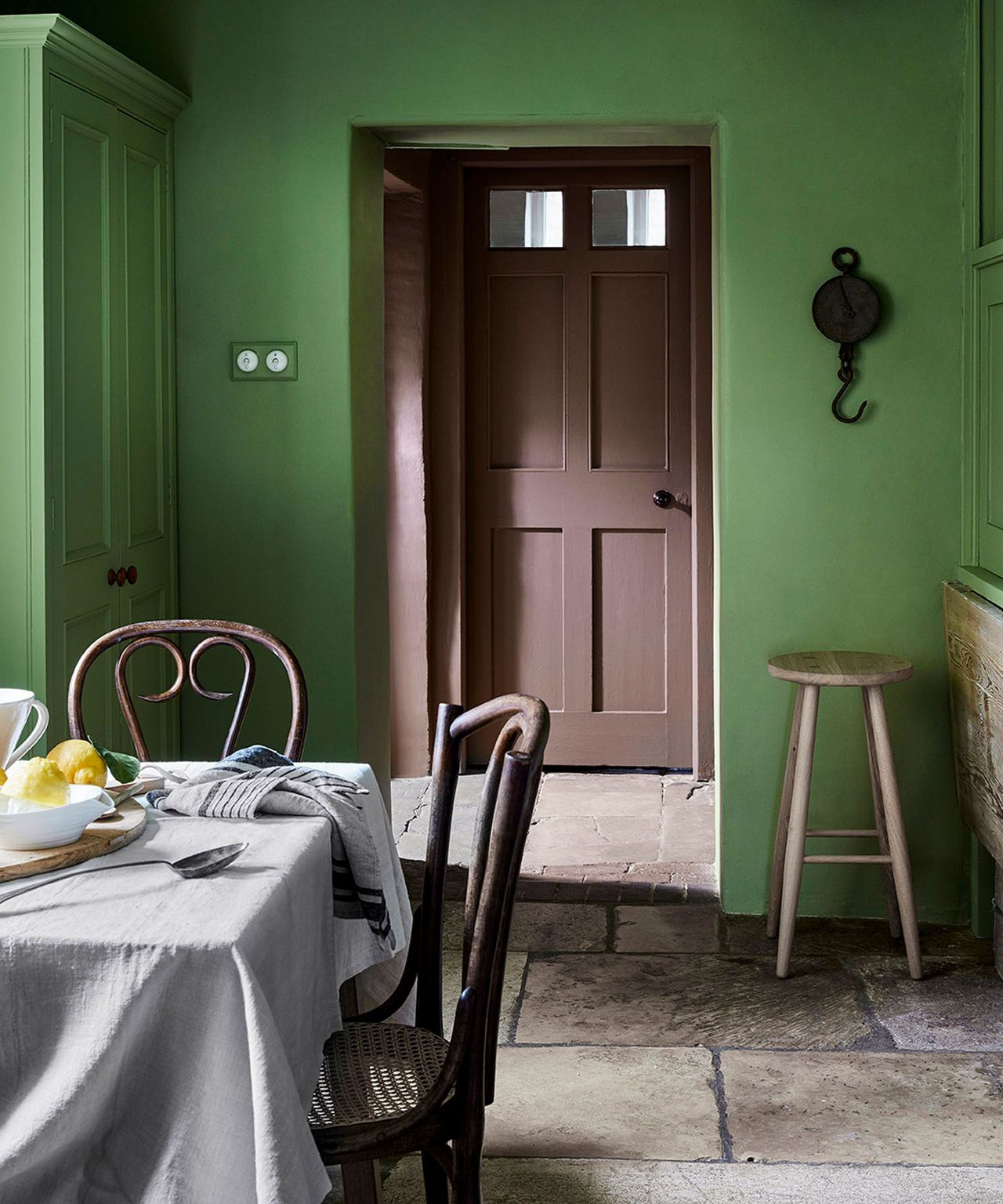 Paint ideas can effortlessly add a sense of vibrancy and contemporary charm to your traditional dining room. 
The green paint used in this country kitchen-diner adds an invigorating energy to the space, whilst still coordinating with the traditional materials and textures in the room. 
'Taking inspiration from nature for paint ideas for your traditional dining room is a great place to start as these colors will be able to effortlessly integrate into a classic scheme,' says Jennifer Ebert, Homes & Gardens' digital editor.
12. Be playful with pink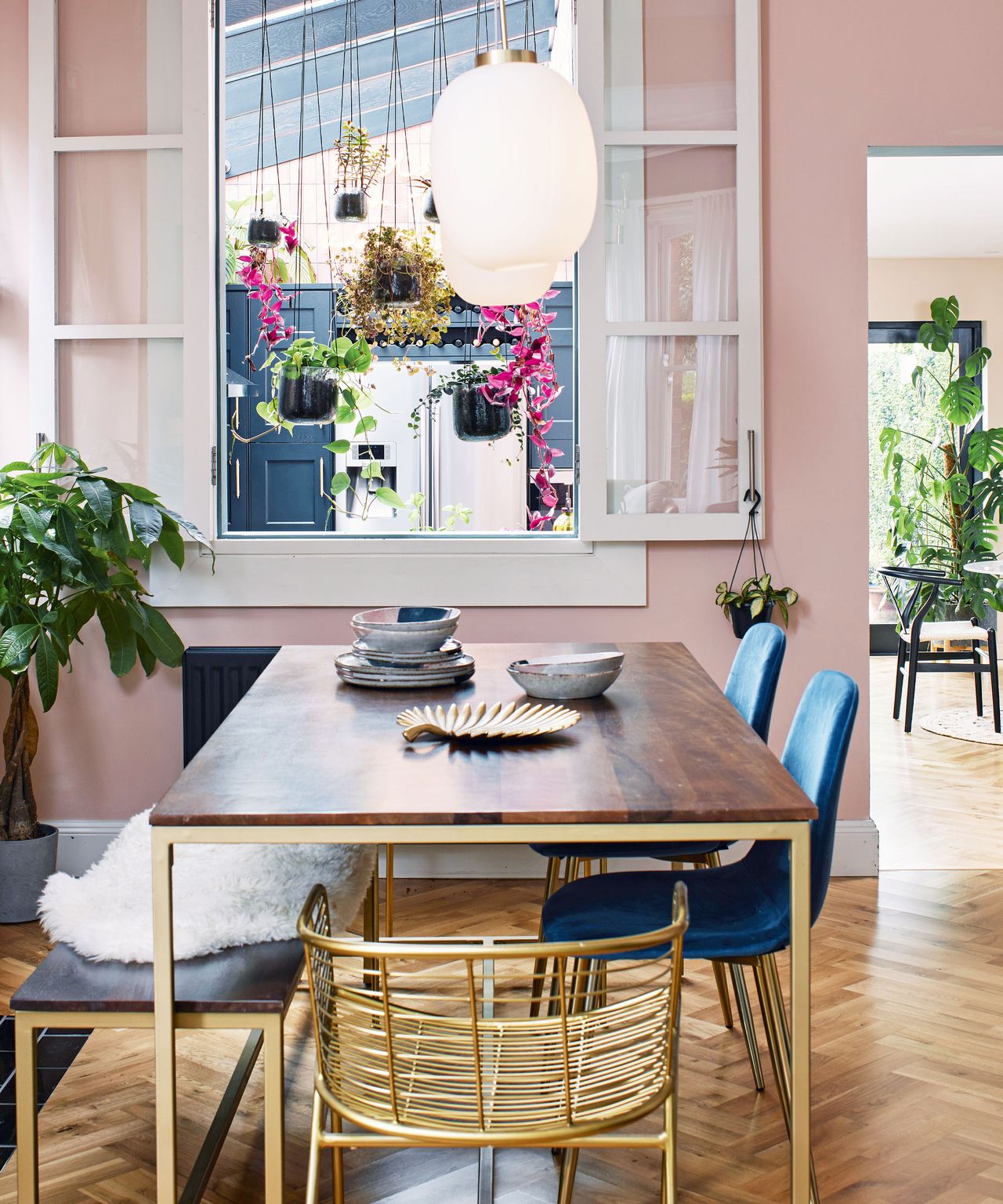 Pink room ideas can be playful and fun, but can they can also create a sophisticated space that embodies a graceful elegance. 
Tash Bradley from Lick states, 'my top shade for a dining room space is pink, a dusky, muted pink shade can look beautiful under candlelight and is instantly welcoming and relaxing'.
In this dining room, the pink painted walls work in harmony with the warm wooden flooring, creating an inviting space. Pink paint can integrate in both classic and contemporary interiors, so is a timeless choice for dining room paint ideas.
13. Coordinate with your furniture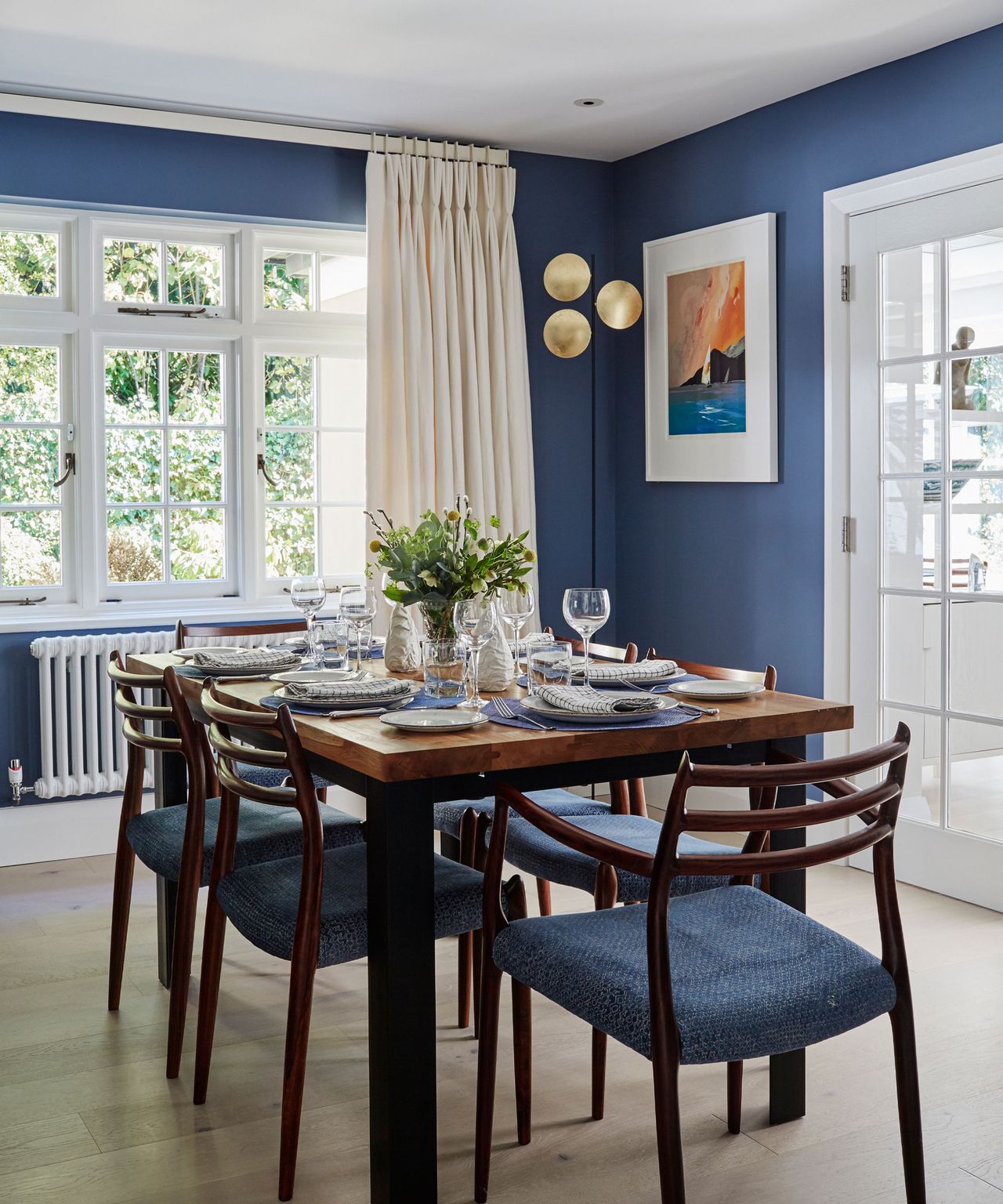 For a cohesive look that can elevate the use of color in your dining room space, coordinate your paint ideas with chosen furniture pieces.
The traditional, dark wood dining chairs with comforting blue upholstery have been brought to life with the use of a similar shade of blue on the walls. This use of paint in this dining room space elevates a traditional furniture design and creates a stylish mix of texture and color.
What color is best for a dining room?
Using paint and color in your home should be personal and expressive, so there are no set rules for dining room color ideas.
However, you want your dining room to be an inviting, relaxed space that people can sit comfortably in for long periods of time, so ensure to remember this when planning your dining room paint ideas and create a space that is both welcoming and impressive.
For some color inspiration to get you started, Justyna Korczynska, senior designer at Crown states, 'yellow easily adds warmth to any room, it can be particularly effective in a living or dining area. For a modern look, balance yellows with something cool like a pale grey or an off white. Try teaming this with natural woods and materials like wicker and bamboo as these will blend in well with the contrasting tones.'
Should I paint my dining room dark or light?
When deciding if you should paint you dining room dark or light, take into consideration factors such as the size of the space and how much natural light the room receives. 
Justyna Korczynska states, 'the lighter the color the more it will reflect available light, whereas the darker the color, the more light it will absorb and the darker a room will appear. Therefore, if you want to make a space feel bigger, you need tones that visually push walls away from you, and these are the pale and light ones, most light reflective colors will then open up a space.'
Using ideas such as painted feature walls can give you the best of both worlds if you want to experiment with light and dark shades or test a color before you paint the whole room.