Lilac is an unusual and underrated color that's packed with meaning and symbolism. When it comes to painting our homes, many of us opt for the blues, greens, and pinks, but lilac is all-too-often forgotten about, or reserved for kids' bedrooms. 
But, done the right way, lilac can bring a tranquil and uplifting feel to your home, meaning soothing purple bedroom ideas are a great thing to consider. Lilac symbolizes hope, optimism, and looking towards the future. The color shares its name with lilac the flower, which has the shortest spring-time bloom period of just three weeks and is adorned with the most delicate lilac and pink-edged petals. 
Lilac has come to represent the start of spring and the hope of a warmer season. 'Lilac has a spiritual, dreamlike quality, ' says Marianne Shillingford at paint company, Dulux. 'In Buddhism and Hinduism, the sacred lilac lotus is a symbol of beauty, rebirth, and enlightenment.' 
In 19th-century Europe, lilac was worn after black to indicate that you were in the final stages of mourning – another sign of moving forward and looking to the future. 
So now you know a bit about the history and psychology of the color, how can you use it effectively in the home?
How and why to make lilac work in your home 
After the past few years, we're all very ready to start looking ahead with hope and optimism, which explains perfectly why lilac has become such a big trend in both the fashion and interior design spheres. From chunky cardigans to cushions and from blazers to blankets, lilac is cropping up everywhere as a soft and pretty way to brighten our homes and wardrobes.
 'I think this color is going to continue to be a big trend in the year ahead,'  says Natasha Bradley, head of color at Lick. 'Consumers are likely to gravitate towards a duskier or more blue-based purple in their homes, which will give more home-decorators the confidence to use the color.'
Although lilac is a soft and seemingly subtle colour, it is quite the statement, so see our tips for using it in a way that works for you.
1. Create a feature wall with lilac wallpaper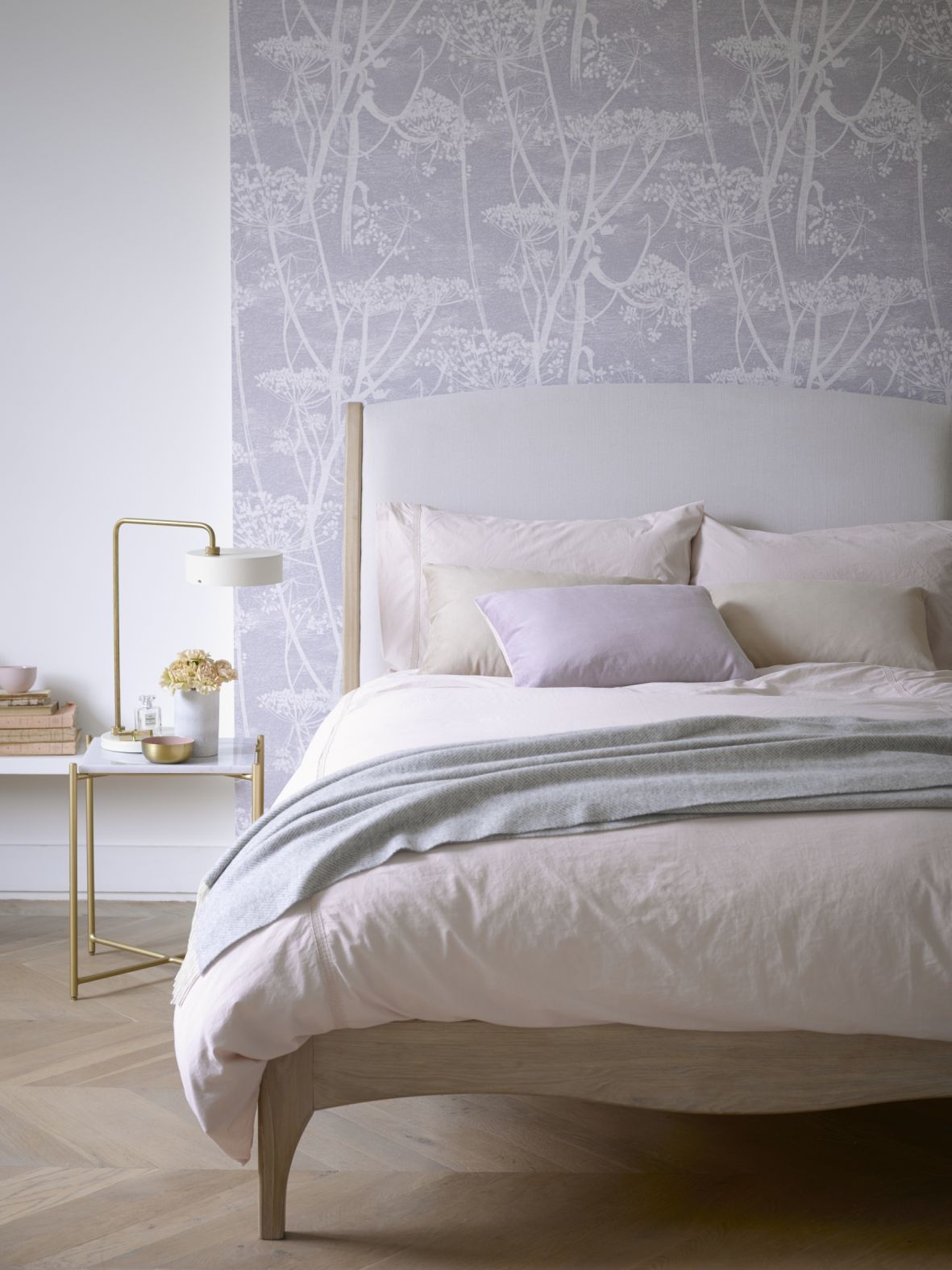 Combine the soothing shade of lilac with a calming nature inspired pattern, as seen with this wallpaper idea. Used behind the headboard of the understated Emilia bed from Sofa.com, the wallpaper creates a focal point in the space. Lilac is used with off-whites and a hint of gold for a luxurious and elegant scheme. 
2. Up the calm in your bathroom with lilac paint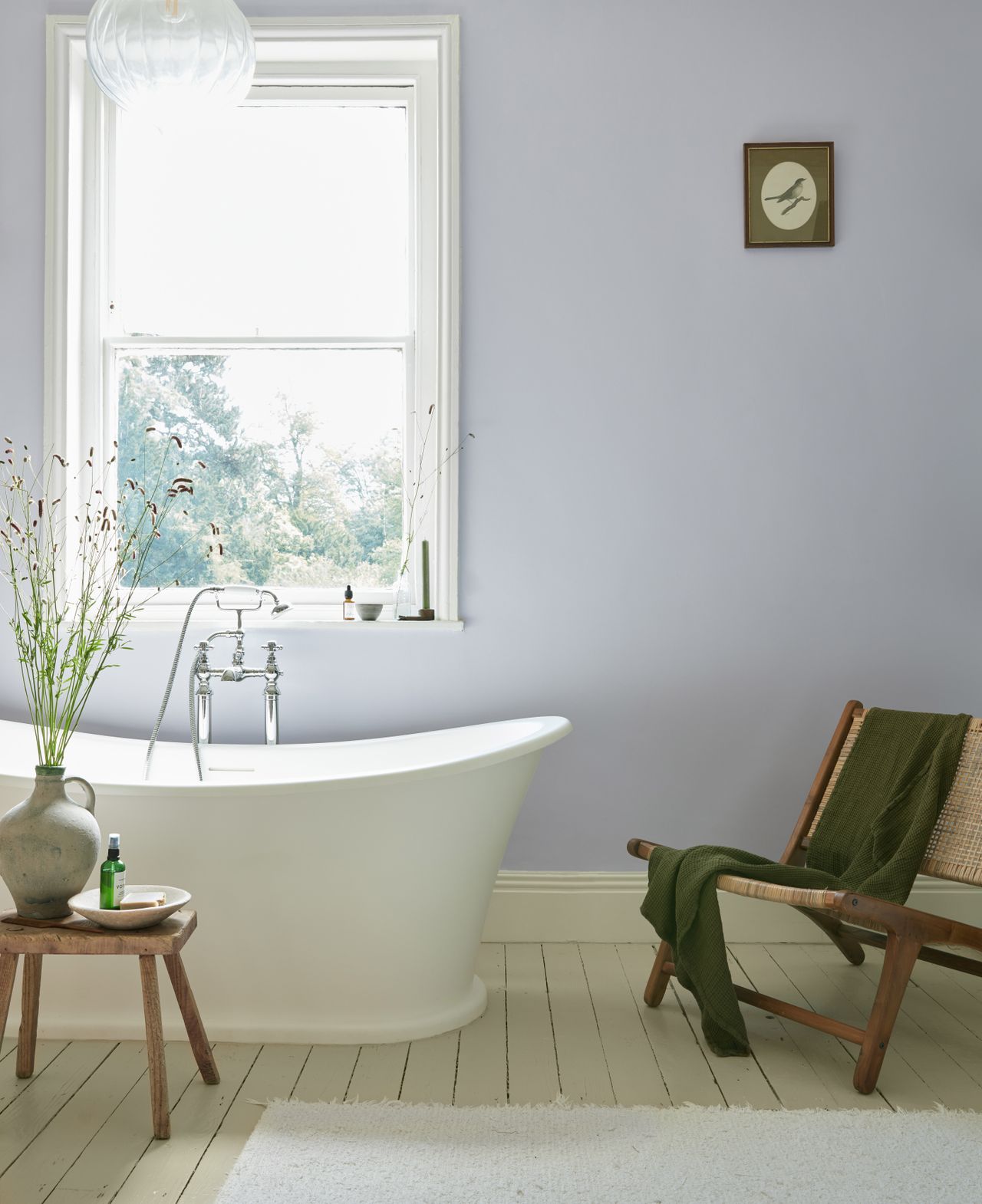 Lilac works especially well in a bathroom as a softer alternative to blue, and bathroom paint is a great, inexpensive way to bring this by the bucket load into your space. As an inherently cool shade, it's important to bring some warmth to your scheme, and the above bathroom painted in, Lily Lily Rose by Earthborn, does that perfectly with wood. The rustic wooden stool and wooden and rattan chair bring a more rugged and homely feel to the otherwise crisp space. 
4. Create a statement and use it all over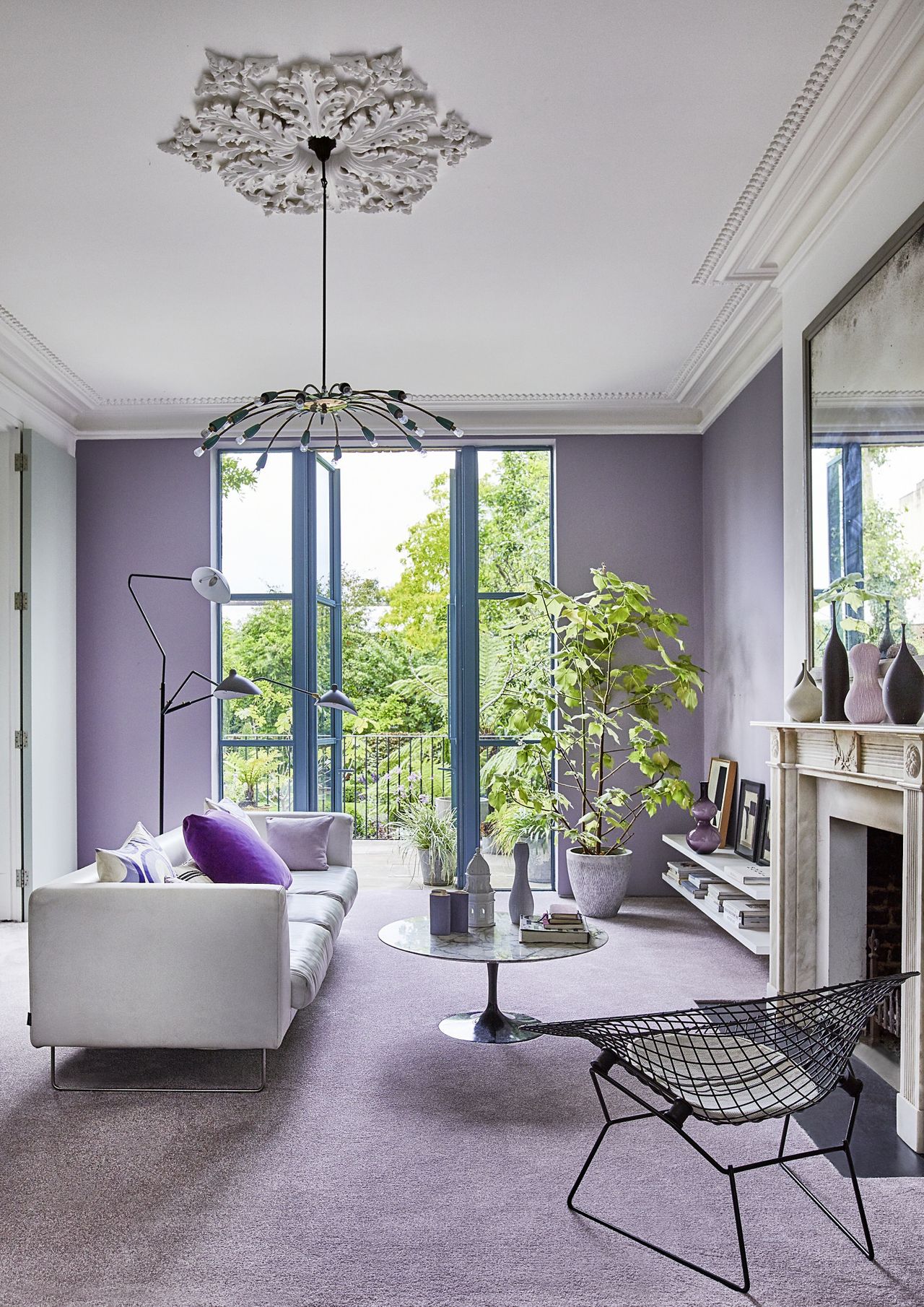 If there's one color where you can go wild and use it all over your room, it's lilac. Used on all the walls and the floor, lilac becomes the blank canvas for other shades to pop against. In the above scheme by Carpetright, the white sofa and marble coffee table, and the black armchair and lighting contrast perfectly with the lilac and brings an orderly and sophisticated feel. 
5. Add warmth to the scheme with deep pink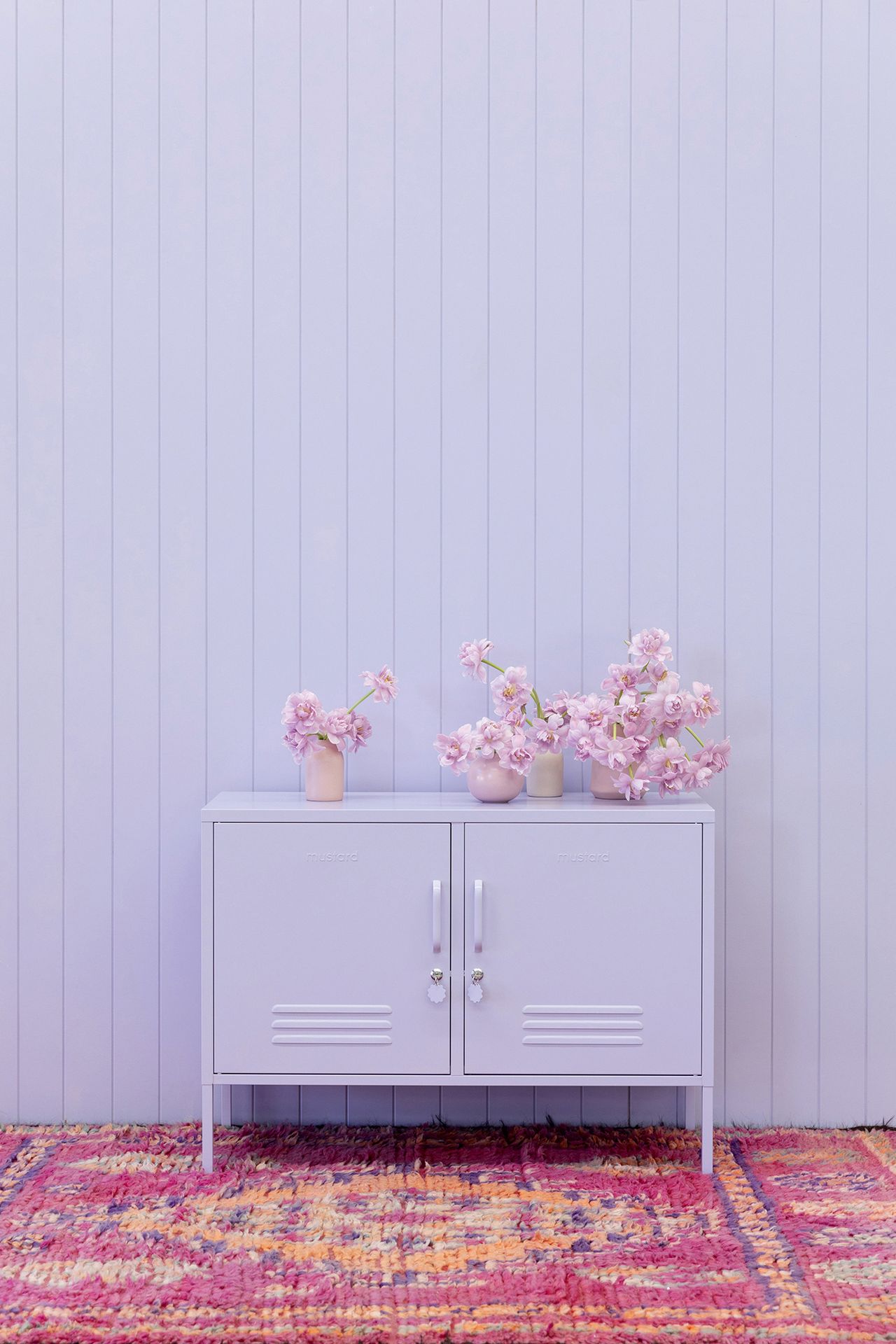 You may think lilac and pink together would scream five year old girl's princess bedroom, but done the right way, it can work. This deep pink rug brings a richness and depth to the light and airy lilac wall, grounding the space and adding that all-important texture too. Avoid using lots of soft pink with lilac – this could become quite sickly sweet so always choose deeper shades for a starker contrast. 
Another way to use lilac in a grown up way is to think about juxtaposing it with the materials and items it is used on. We love this locker from Mustard Made in a soft lilac that contrasts with its industrial style.
What colors work well with lilac?
There are a couple of palettes that work really well with lilac. The one you choose will depend on whether you want to make a statement with lilac or use it as part of a calming scheme.
The bold palette 
'Complementary colors sit opposite one another on the color wheel and they'll create high contrast when used together in your home,'  says Anne Haimes, founder and director at Anne Haimes Interiors.  'Opposite lilac is dark olive green, burnt orange, or vibrant lemon yellow, and these will work to bring warmth and depth to your scheme. A richer purple, forest green, and mustard yellow all work well to bring warmth and depth to a scheme too.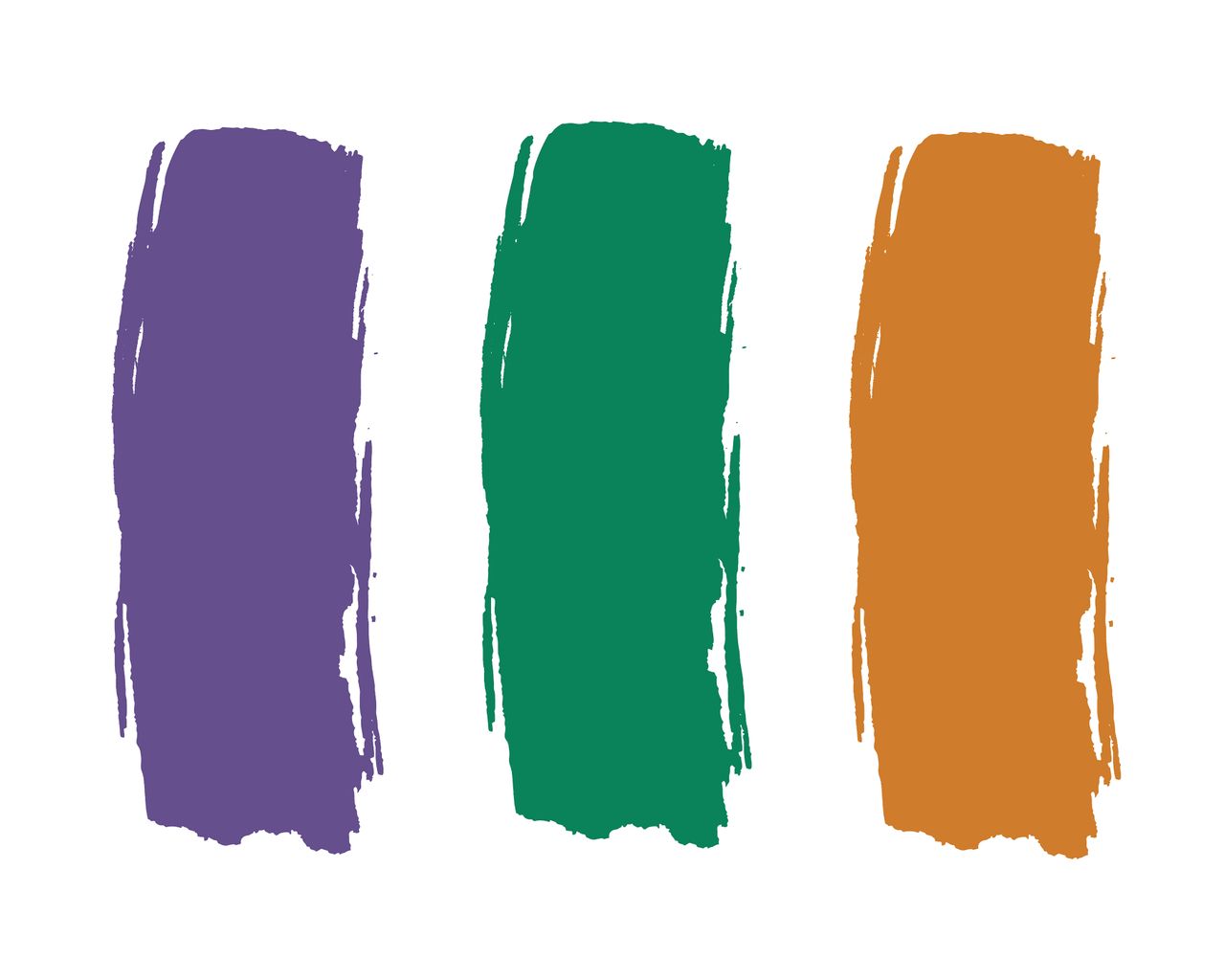 The neutral palette 
'If you're looking for a more neutral, muted color palette, pair lilac with soft sage green, light caramels, and earthy browns or greige,' Anna continues. The three neutral shades below will create a calming yet warm base and allow a lilac accent or feature wall to really do the talking.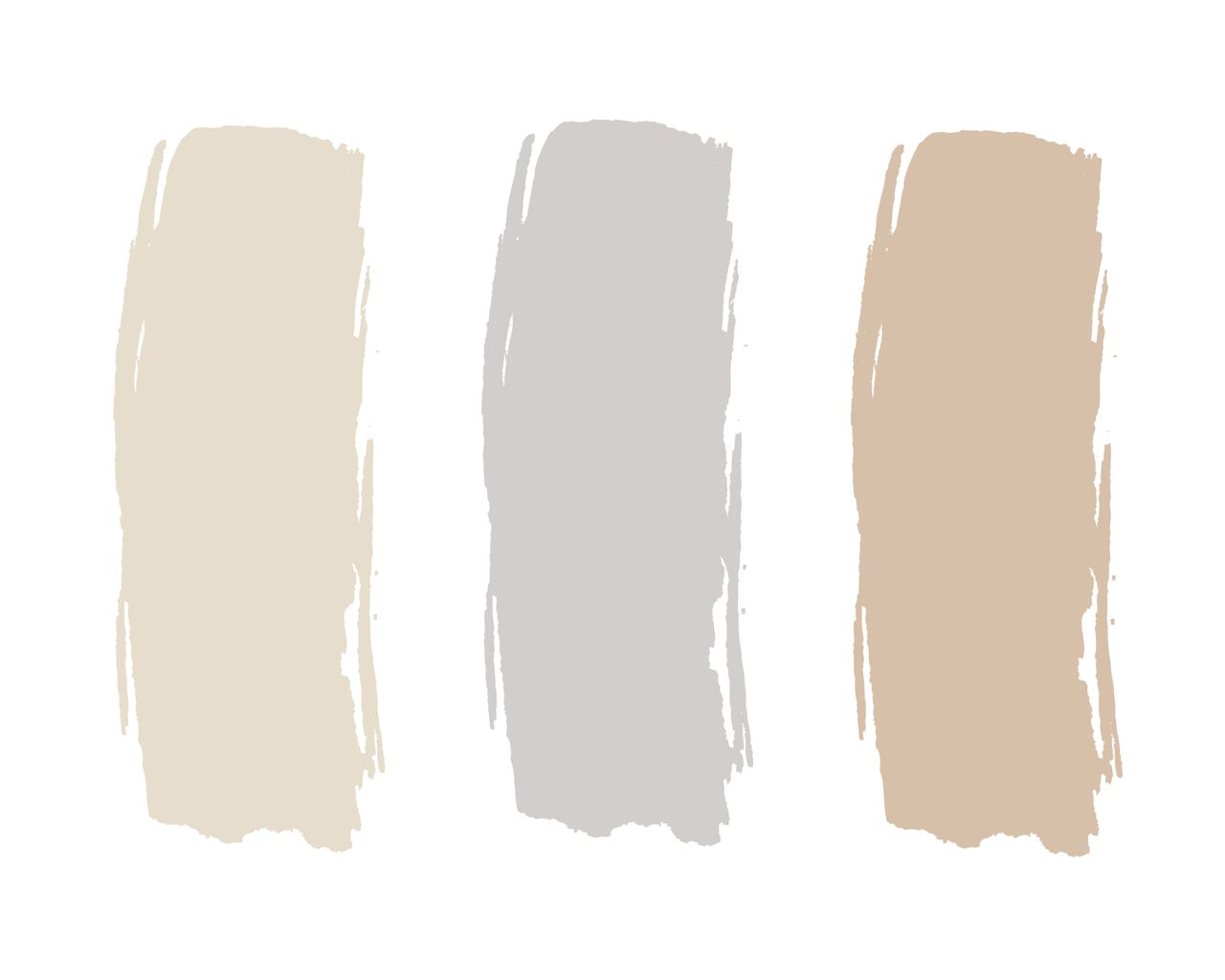 What rooms will benefit from lilac?
It's important to consider where your room faces in relation to the sun as this will determine the best shade and color palette to choose for your room. 'Despite its pink hints, lilac is a color that lives on the cool side of the spectrum, so it doesn't always work well in north-facing rooms,' Shillingford explains.
The rules of decorating with lilac
Dos
– Combine with greys and whites for a calming scheme
– Use with warm shades in a north-facing room
– Use contrasting colors to add impact
Don'ts
– Combine with blues or reds
– Be afraid to go all over 
– Forgot to add depth with woods, cottons and jute
'It can make the space appear cold unless you have great artificial lighting. Instead, use it in predominantly south-facing rooms and spaces with plenty of natural light,' Shillingford continues. 
If your heart is set on lilac and your room happens to face north, you can warm up the scheme with other colors. 'In a north-facing room, balance out lilac with some additional heat, potentially using colors with a base of yellow or green,' says psychologist and wellbeing consultant, Lee Chambers.
This said, it's always best to try out paint colors before you buy them. Paint 12-inch squares onto all the walls you intend to paint. Then keep on checking in at different points in the day to see how the color looks in different lights. You might love the color in the afternoon sun, for example, but it may look too dark and dingy at night. Take your time – it's better to test 10 colors and find the right one, rather than paint your whole room and then realize you don't like it!
What are the best lilac paints?
Add some lilac love the easy way with these 9 gorgeous buys