The 19th-century French realist painter's pictures of animals — and pioneering lifestyle — made her the most celebrated female artist of the age
If you were asked to name a great 19th-century French painter you would be spoilt for choice: Jacques-Louis David, Ingres, Delacroix, Manet, Courbet, Monet, Degas and Cézanne are all household names. You might not think of Rosa Bonheur, yet she was one of the best-known artists in the world between the late 1840s and 1900.
Her meticulous realist paintings and sculptures of animals reached high prices and were much in demand in France, Britain and America. Prints of her works sold in huge numbers.
Anne Robbins, associate curator of post-1800 paintings at the National Gallery in London says: 'Rosa Bonheur is one of the most important women artists of all time. She was extremely famous in her own day, not just in France, but also abroad. She was the first female artist to reach such a level of international fame.'
Bonheur's monumental painting The Horse Fair (1852-5) is her most well-known work. This 5m-wide tour de force was widely praised when it was shown at the Paris Salon — the annual exhibition at the Académie des Beaux-Arts — in 1853. It toured Britain between 1855 (when Bonheur added some final touches) and 1857, and Queen Victoria requested a private viewing at Buckingham Palace.
The painting was bought by US millionaire Cornelius Vanderbilt II in 1887 and donated to the Metropolitan Museum of Art in New York. There is a smaller version in the National Gallery in London.


It wasn't just her prowess as an artist that made Bonheur famous. Women in 19th-century Paris were obliged by law to wear what was considered 'suitable dress', including long, full skirts. For Bonheur, who needed to visit abattoirs and farms for her animal studies, this was impractical, and she successfully applied to the police for a licence to wear trousers while working. She would dress in clothes for both men and women for the rest of her life.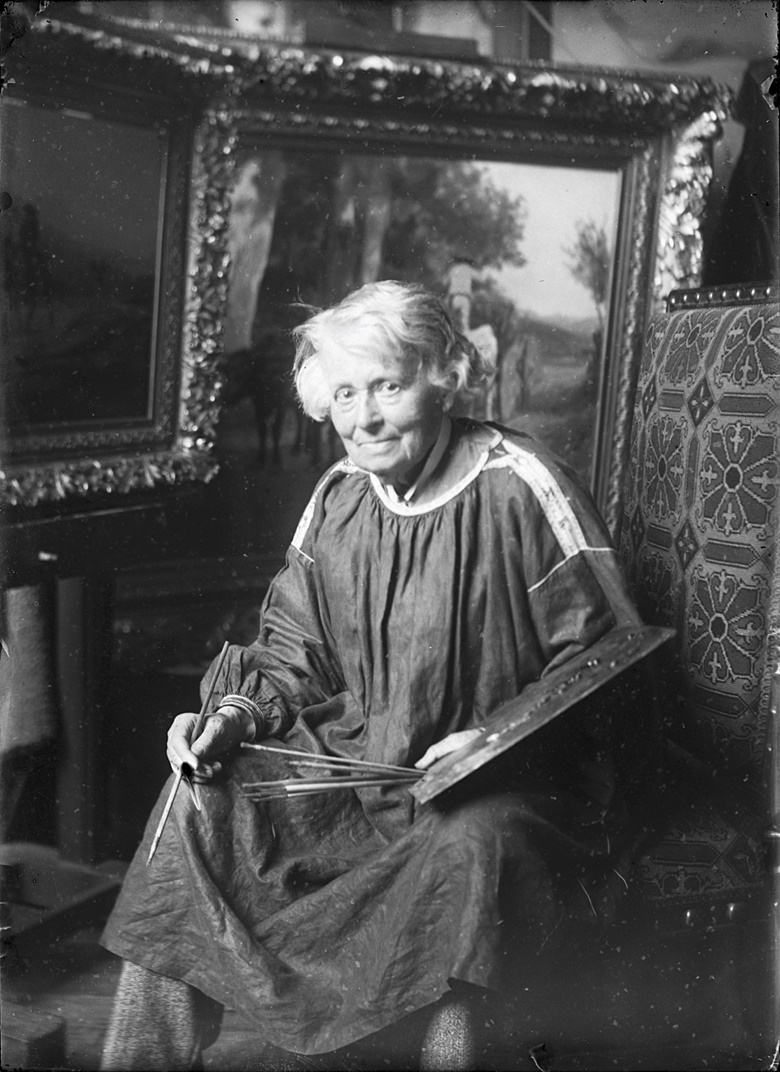 She further confounded gender stereotypes by remaining unmarried and living openly with the female painter Nathalie Micas (1824-89) for more than 40 years. After Micas died, Bonheur lived with Anna Klumpke (1856-1942), an American painter more than 30 years her junior, until her death, aged 77, in 1899.
Much like her near contemporary, the female novelist George Sand (1804-76) — whose real name was Aurore Dupin — Bonheur cut her hair short and unashamedly puffed on cigars in public.


Bonheur had an unconventional upbringing. She was born Marie-Rosalie Bonheur in Bordeaux in 1822 to Raymond, a landscape and portrait painter, and Sophie, a piano teacher, who died when she was 11. Her father was a follower of a utopian Christian-socialist movement inspired by the ideas of the political theorist Henri de Saint-Simon, and firmly believed that girls and boys should be treated as equals.
He nurtured the artistic talents of Rosa, her younger brothers, Auguste and Isidore, and her younger sister Juliette, all of whom would become animaliers — animal painters or sculptors. He brought animals into his studio for Rosa to draw — she would also copy paintings in the Louvre (Poussin and Rubens were favourites) and take trips to the countryside to draw cattle and horses. Her need to understand the anatomy of her subjects led her to seek permission to draw at the city abattoirs and the national veterinary school.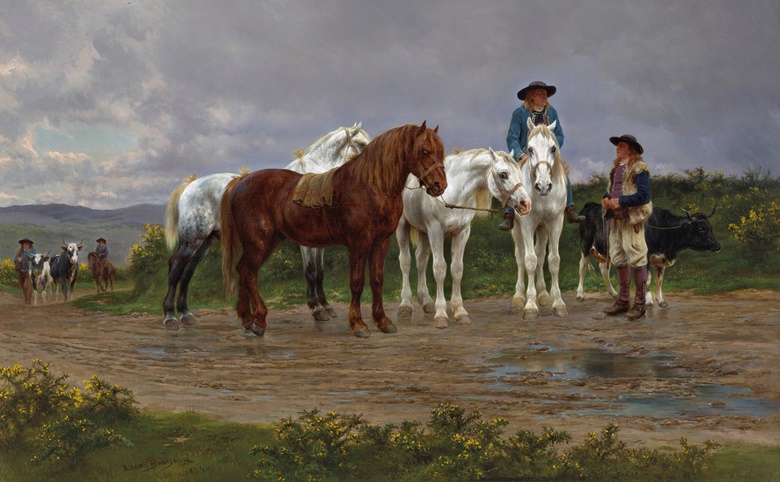 Painting animals was already a well-established genre by the time Bonheur began her career – Flemish artists such as Frans Snyders (1579-1657) was a notable predecessor. The demand to commemorate pets, racehorses, prized farm animals and wildlife in as realistic a way as possible expanded massively as paintings or prints became available at a price the new middle-class urban population could afford.
This was driven by two factors: sentimentality for beloved pets and valuable domesticated animals, and nostalgia for an imagined romantic existence far away from the filthy industrial cities of the 19th century.
This desire cut across class boundaries. The British aristocracy, for example, made Edwin Landseer (1802-73) one of the most famous artists of the Victorian era. His paintings were bought by the wealthy, but engravings of them sold in large numbers. Bonheur would follow a similar path.
Leïla Jarbouai, a curator at the Musée d'Orsay, says Bonheur was a master draughtsman who studied academic drawing but was also interested in the possibilities of new techniques such as photography. 'Her studies have an extraordinary vitality, while her paintings display a high level of perfectionism, she drew on the traditions of the past as well as the latest technical discoveries. All of this contributes to the richness of her work.'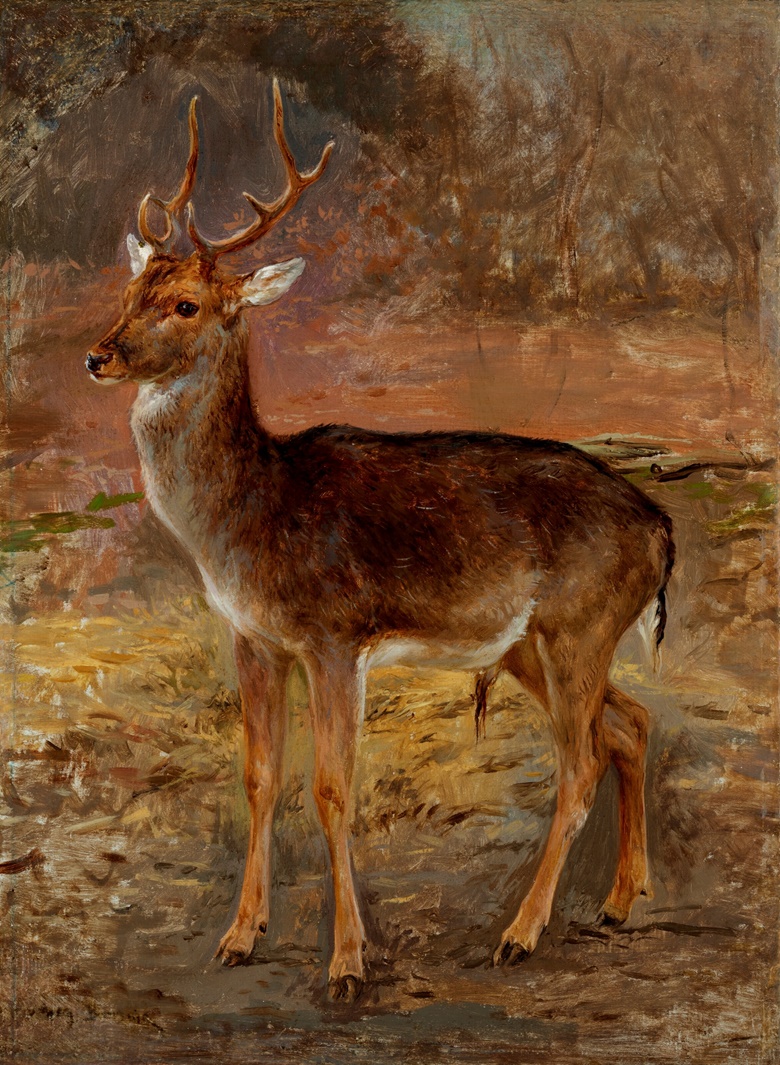 Bonheur's mastery of drawing and painting were recognised before she reached her 20s. She first had a painting accepted for the Salon of 1841 when she was 19, and became a regular exhibitor.
By 1849 her reputation was firmly established, and the Ministry of the Interior offered her 3,000 francs to produce a picture of her choosing. The result was Ploughing in the Nivernais (1849), a huge painting of two teams of Charolais cattle ploughing the land. It won a prize at that year's Salon and is now in the Musée d'Orsay.
The enormous popularity of Bonheur's pictures led to her being awarded the Légion d'honneur by Empress Eugénie, the wife of Napoleon III, in 1865. In 1894 she was made an officer of the order — the first woman to have received the honour.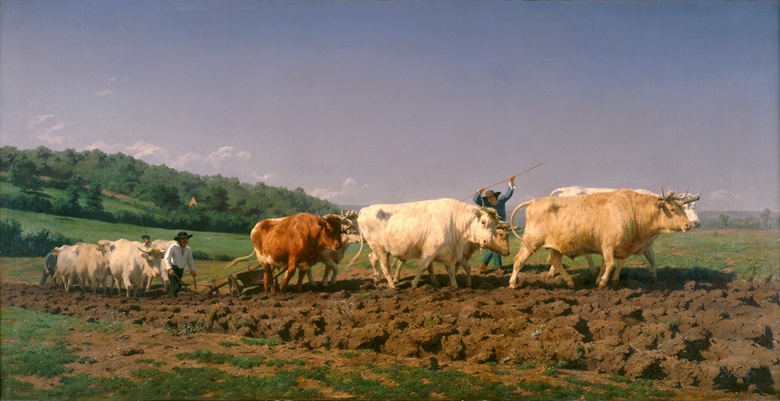 Bonheur was a prolific artist. Besides her monumental pictures, she produced thousands of smaller paintings, drawings, sketches and a handful of sculptures. She painted domestic pets, sheep, cattle, horses and occasionally more exotic wildlife such as deer, boars and lions.
Bonheur's works vary widely in price. Small sketches and oils are accessible for many collectors at around $10,000. Her large-scale paintings are far more expensive. Le Roi de la forêt (1878), a large painting of a stag, sold at Christie's in 2017 for $608,000. Committed collectors look for large, highly finished paintings. Stags, deer, lions and tigers are popular.
High prices have also been achieved for her pictures of American subjects and animals – she was inspired by 'Buffalo Bill' Cody's Wild West Show at the Exposition Universelle in 1889.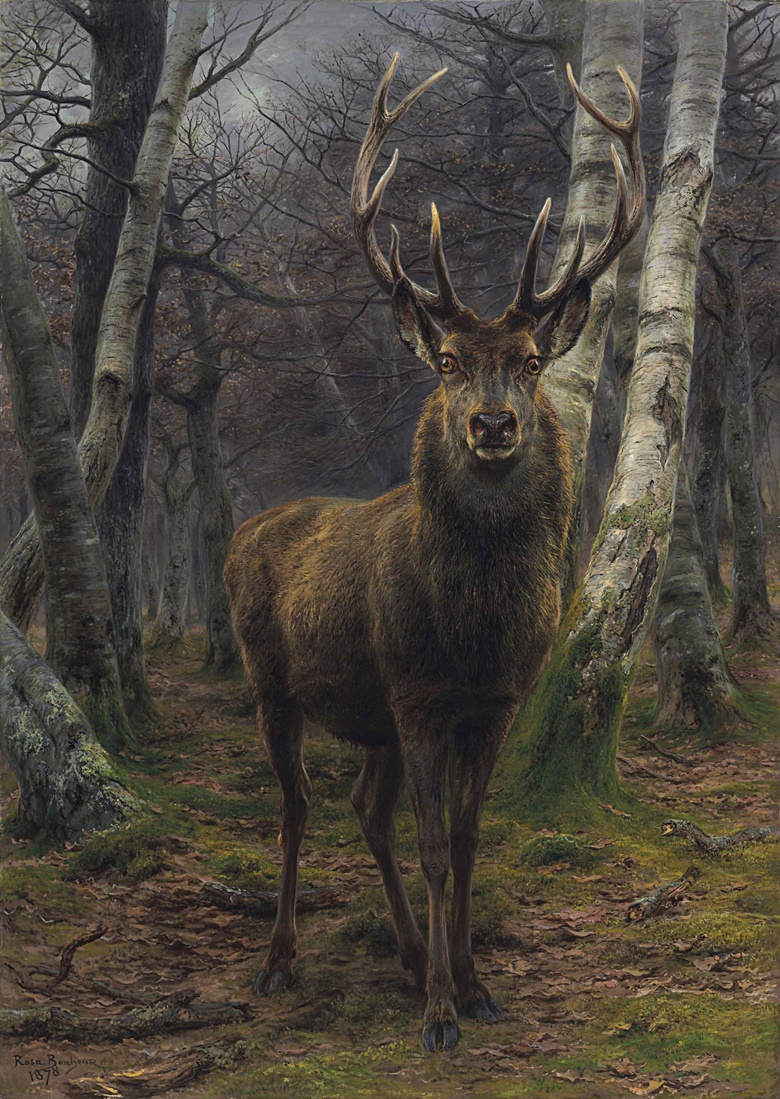 Bonheur surrounded herself with animals at the home she bought in 1859, the Château de By near Fontainebleau (now the Château de Rosa Bonheur museum). Her menagerie included at various times rabbits, birds, squirrels, sheep, monkeys, horses and even a lion.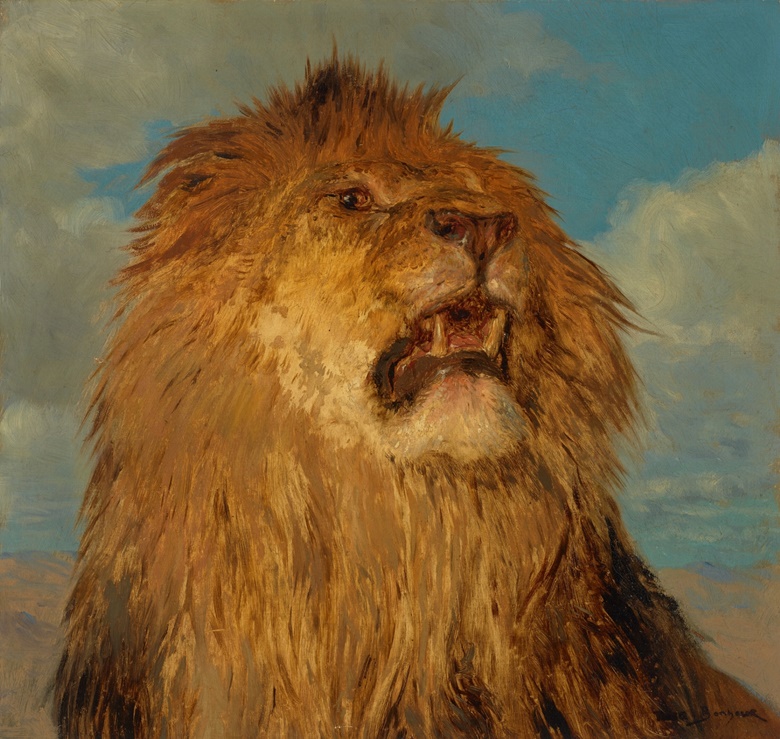 Jarbouai says: 'Unlike many animal artists, Bonheur didn't try to humanise animals – she wanted to express their singularity and otherness. Her goal was to produce work that was as faithful as possible to that vision. In this, she was like other artists of her time such as Degas, who tirelessly studied dancers so he could represent them as accurately as possible.'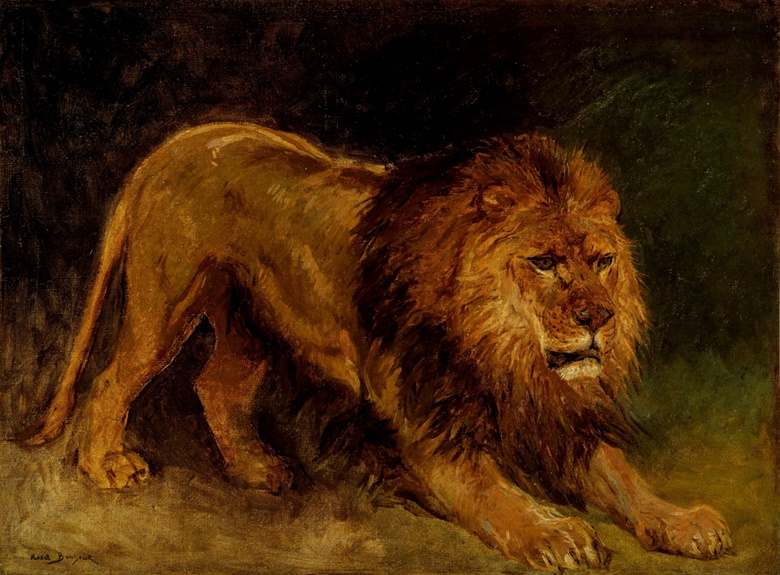 While Bonheur is often lauded by contemporary feminists for succeeding in a more patriarchal society, and for defying gender stereotypes, she didn't want to be labelled. She had succeeded through her own efforts, and firmly believed women did not deserve special consideration. 'Women's rights – women's nonsense!' she once said.
Catherine Hewitt, author of the recent biography Art is a Tyrant: The Unconventional Life of Rosa Bonheur (Icon Books, 2020), writes: 'Rosa never called for equality; she ensured that her work earned her that right.'
After her death, the contents of Bonheur's studio were auctioned. Hundreds of finished and unfinished paintings, drawings and sketches fetched almost 1.2m francs (about $8m today). However, the next few decades saw a rapid decline in the popularity of her work.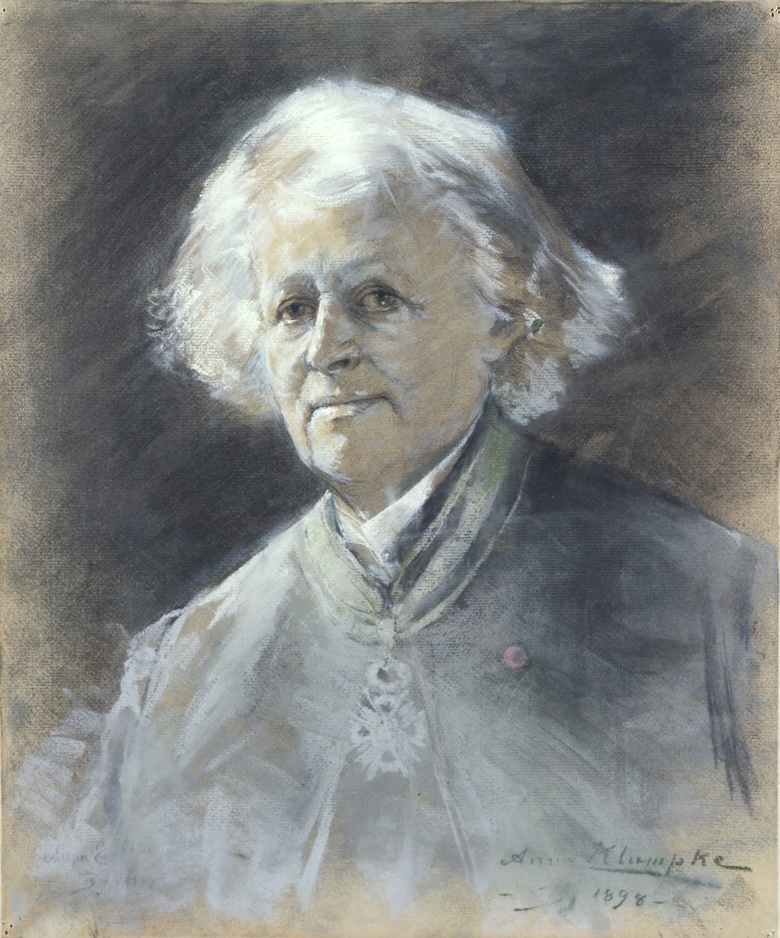 While the Impressionists and their successors were exploring new ways of painting in response to the rapid urbanisation and industrialisation of the 19th century, Bonheur's meticulous pictures of animals in bucolic landscapes looked outdated. Prices for her work plummeted.
Her reputation started to recover in the 1970s, when scholars began to investigate female artists who had been neglected by historians. A retrospective in her home town of Bordeaux in 1977 was largely responsible for her gradual rehabilitation.
In 2022, to mark the bicentenary of Bonheur's birth, the Musée des Beaux-Arts de Bordeaux and the Musée d'Orsay are jointly staging an exhibition in Bordeaux that will then travel to Paris. This will hopefully help to restore Bonheur to her rightful place in the history of art.