Who are you and what do you do?
Hi! My name is Whitney and I create sewn abstract art. I live in the San Francisco Bay Area with my husband and our almost 4-year-old daughter.
My background is rooted in fashion design with a focus on bridal. After graduating from college, I moved to New York City to work as a wedding gown designer. I was in the bridal sector for the majority of my career, which is where the sewing element of my work comes from.
I try to bring a unique take to my art thanks to my non-traditional background (i.e., I did not study to be a painter). I use an array of materials starting with acrylic paints and unstretched canvas. I typically incorporate hand-painted and handmade papers as well as gold and silver leaf and finish off every piece on the sewing machine with my signature touch. I try to infuse depth, texture, and a sense of fluidity into all of my pieces.
Why do you do what you do?
Well, when my husband and I bought our first home, I quickly found myself wanting to fill the walls with art that brought me joy. I love the idea of being surrounded by one-of-a-kind, original art, but curating a collection of artwork immediately is not feasible. In the meantime, I decided what better way than to start decorating with my own art?! So I pulled out my paint and brushes and started experimenting. I wanted to tie in different aspects of my background and expertise to the art itself, which is what led me to finishing off the pieces on the sewing machine. I have come to utilize the stitches much as a painter uses their brushes, creating depth and movement with the thread.
Ultimately, I do this to connect with people and have my work speak in such a way that reminds them of a special moment or place. Creating art that sparks feelings or memories on a deep level is so powerful.
What inspires your art?
Being in California, much of my inspiration comes from nature. The environment and sustainability are very important to me, so it plays a significant role in my work. I am surrounded by vast mountain ranges, morning fog rolling over the hills, and sunset beaches – it is no wonder it serves as an inspiration for much of my art!
How and when did you get into art?
Art has always been encouraged since I was very young. My mom is also an artist, so I was fortunate to have parents who fostered my love for making.  I was focused on different aspects of art and design over the years, but I have always identified with being a creator. I went to the Savannah College of Art and Design and received my BFA in Fashion Design which is where the sewing machine comes into play in my work. While in school I took classes in bookmaking, printmaking, 3D sculpture – I wanted to learn it all! To this day, I still love learning new techniques and art forms – it is so inspiring.
How has your practice changed over time?
Since I began, it seems elements are continually being added to create more texture, more movement. From layering tissue paper, to adding hot fix studs, to new stitches on the machine – my work is constantly evolving and I am excited to see where it takes me in the years to come.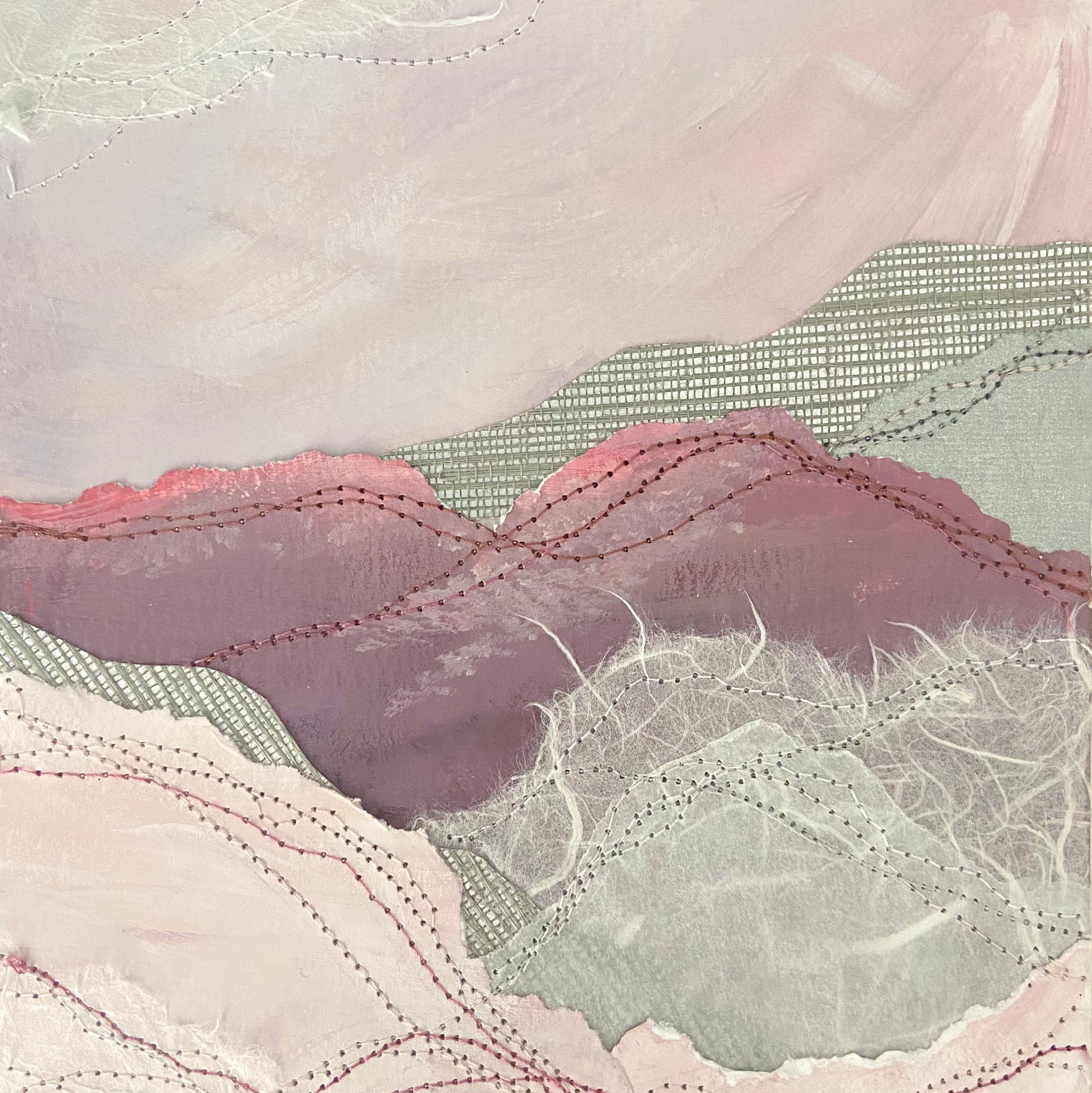 What's your favorite piece of art that you've created? Why?
How do you ask an artist that question?! I feel like it changes from week to week! Instead, I will tell you about my most personal piece. These are the first pieces I really created for myself with nothing else in mind except conveying my journey during the hardest time of my life. I originally had no intention of sharing the process or emotion behind them, but isn't that what art is meant to do? To connect with others when we can't find the words? A way to heal and express our innermost anxieties and fears?
When I was 9, my younger brother, Bo, passed away in a tragic accident, shaping my entire life. In this piece, I abstractly explored that dark place I experienced in the wake of tragedy. After years of grieving and growing, I have learned to live in the light while also embracing the occasional pain that inevitably creeps in. This diptych is titled "Darkness Comes Before the Light"
What's the best piece of art advice you've been given?
"Don't let ambition rob you of your current joy." This is all-encompassing life advice, but I found it incredibly impactful when starting out on the journey of not only producing art but running a small business from it. In the world of social media and the incredible benefits it can have for creators, small businesses and the like to be seen, it also brings with it a lot of pressure. It is so easy for me to get wrapped up in how things could be better, growing faster, sales could be higher, etc. – that it takes away from the pride I have in what I have built and the unique voice I am impacting others with. It's important to keep perspective on what truly matters.
What's one art tip/technique you can share with us that you find really helpful?
For any artist who has multiple steps in their process, my best advice is to find a way to batch your work. For instance, I try to plan out my week by allocating specific days to the stages of my process. One day it's all painting, the following day is working on the layout for multiple pieces, then another day for securing those layouts, and then finishing up the week on the sewing machine. Do you see my type-A organization coming through here?
Do you have any secret tips or techniques you use to salvage a piece when you make a mistake?
Don't be afraid to repurpose! I've had finished pieces I was not happy with and instead of tossing them, I found elements/areas within the piece that I loved. From there, I cut out what then became the base for a new, smaller piece. It is funny how people sometimes react when I post a video of me cutting up something I have created – but I have learned that I have to be proud of every piece I put out there.
What is your favorite Strathmore paper? Why?
I love the 400 Series Mixed Media paper. It holds up so well to the acrylic paint and the deckled edge I get when tearing the paper is just the best.
What art materials could you not live without?
Besides my paint and paper, I would have to say my sewing machine and silibrush. The brush is a common woodworker tool; I use it to spread glue to adhere the papers to the canvas before stitching. I love it because it is silicone and therefore doesn't ruin traditional brushes trying to spread glue. I won't get into the months I spent just using my finger…
What types of colors are you drawn to for your art and why?
Soft, soothing colors are really what anchor most of my art. There is a sense of peace when working with them and I love that translation in what I do. With that said, I do enjoy stretching myself and bringing in more saturated colors from time to time to contrast those more neutral tones.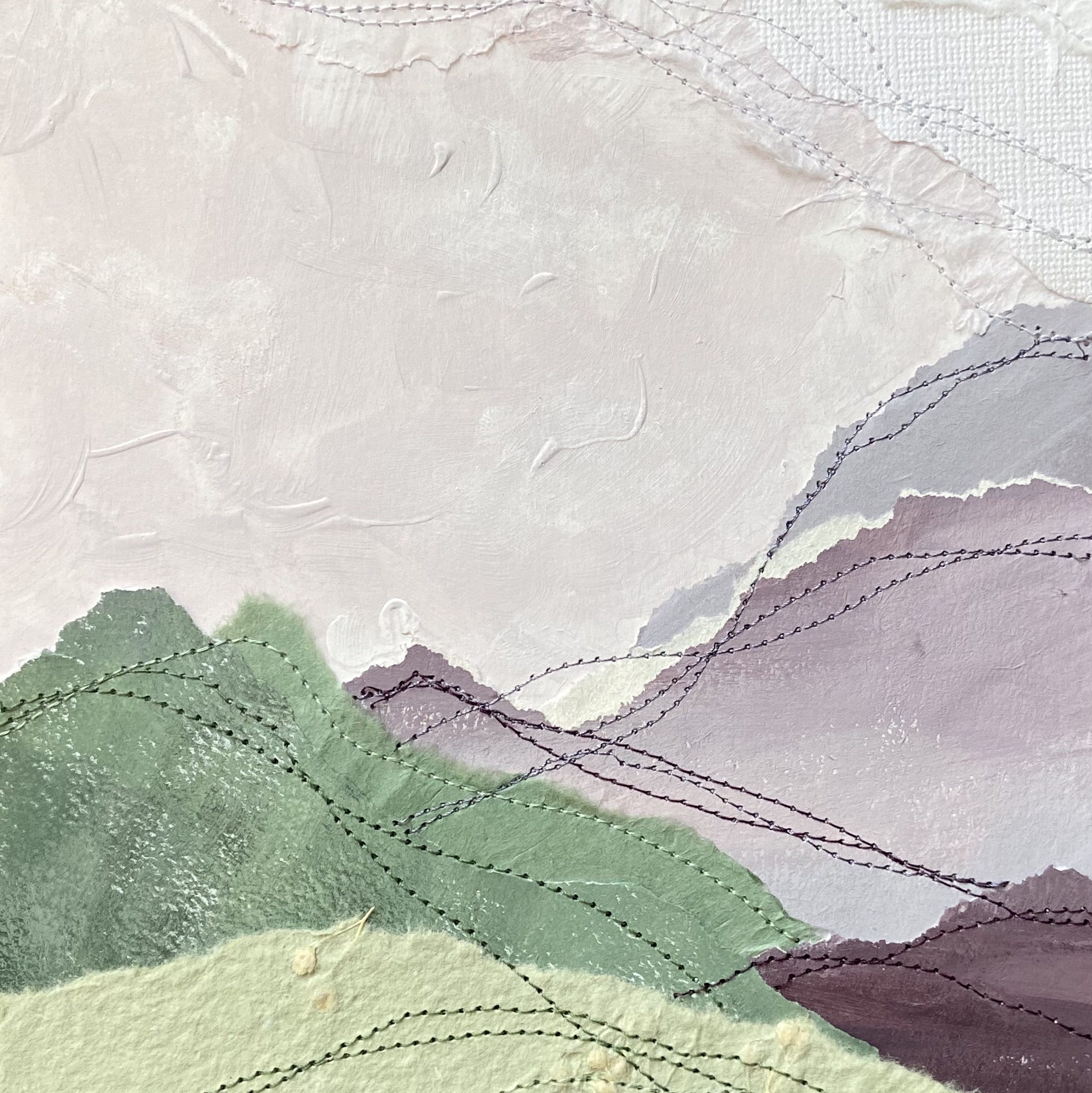 Who are your biggest influences (or who were when you started doing art)?
This may be an atypical answer – but my background stems in fashion design, so my biggest influences when I began were Oscar de la Renta, Carolina Herrera, and Amsale. They may not be painters, but they are creators. Their timeless and elegant points of view are what still inspire and steer my designs.
What's the most common art-related question you get from your followers?
-How does your sewing machine hold up to stitching through paper and canvas?
-How do you create the texture on your hand-painted papers?
-What type of glue do you use?
Website and social media links:
Website: www.artbywhitneyalyssa.com
Instagram: @artbywhitneyalyssa
Facebook: @artbywhitneyalyssa
Pinterest: @artbywhitneyalyssa
TikTok: @artbywhitneyalyssa