This is a conjunction we've all been waiting for!
In our first-ever ultra-collab, CD PROJEKT RED teams up with Anato Finnstark to bring to life this striking Ultra Limited Edition design straight from The Witcher universe.
Witcher on the Path, the fourth entry in our Ultra Limited series, is here to make history, so let's dive into the story behind its creation. Read on to find out more about this unique collaboration — just beware of monsters ahead.
Exploring the art of The Witcher
Whatever image comes to mind when you think of The Witcher, there's a good chance it's influenced by the people at CD PROJEKT RED. For more than 15 years now, they've put great effort into making sure that the Slavic-inspired world of Andrzej Sapkowski's saga comes alive even in the tiniest visual details.
And so to turn Geralt's story into a single artwork for this project, they needed a special canvas and a unique talent. With Displate providing the first, CD PROJEKT RED had to find an exceptional artist to cover the second. And they did.
Anato Finnstark, who has previously worked on other Witcher-related projects, was an obvious choice for CD PROJEKT RED's Comic Book & Animation Narrative Director Bartosz Sztybor.
What do you especially like about Anato Finnstark's style
I really like that Anato's art is epic yet intimate. It's a rather unique combination, one you don't often see. Artists usually choose between creating huge worlds or focusing on a character's emotions. Anato always has both. There's always a character in the center, his emotions highlighted through an amazing use of color and composition.
But the character is always portrayed in context: Anato very often uses amazing perspectives and enriches the world through detailed backgrounds. That's why I'm a big fan of Anato's style and art — he's a sensitive world builder.
On what projects have you worked together so far? How was it to work together?
I've been a fan of Anato's work for a long time, which is why I was thrilled he agreed to work on the covers for a mini-series I wrote, The Witcher: Witch's Lament, creating multiple cover variants for each of the four issues . I wanted to work with Anato because the story was very emotional and dark, and Anato knows how to create incredibly dense atmospheres with his art.
Once Anato received the scripts, he quickly came back with amazing ideas, requiring little-to-no guidance to grasp the essence of each comic and create pieces rich in atmosphere, symbolism, and emotions.
The Witcher comic book series is famous for amazing covers and Anato's contributions are some of the best!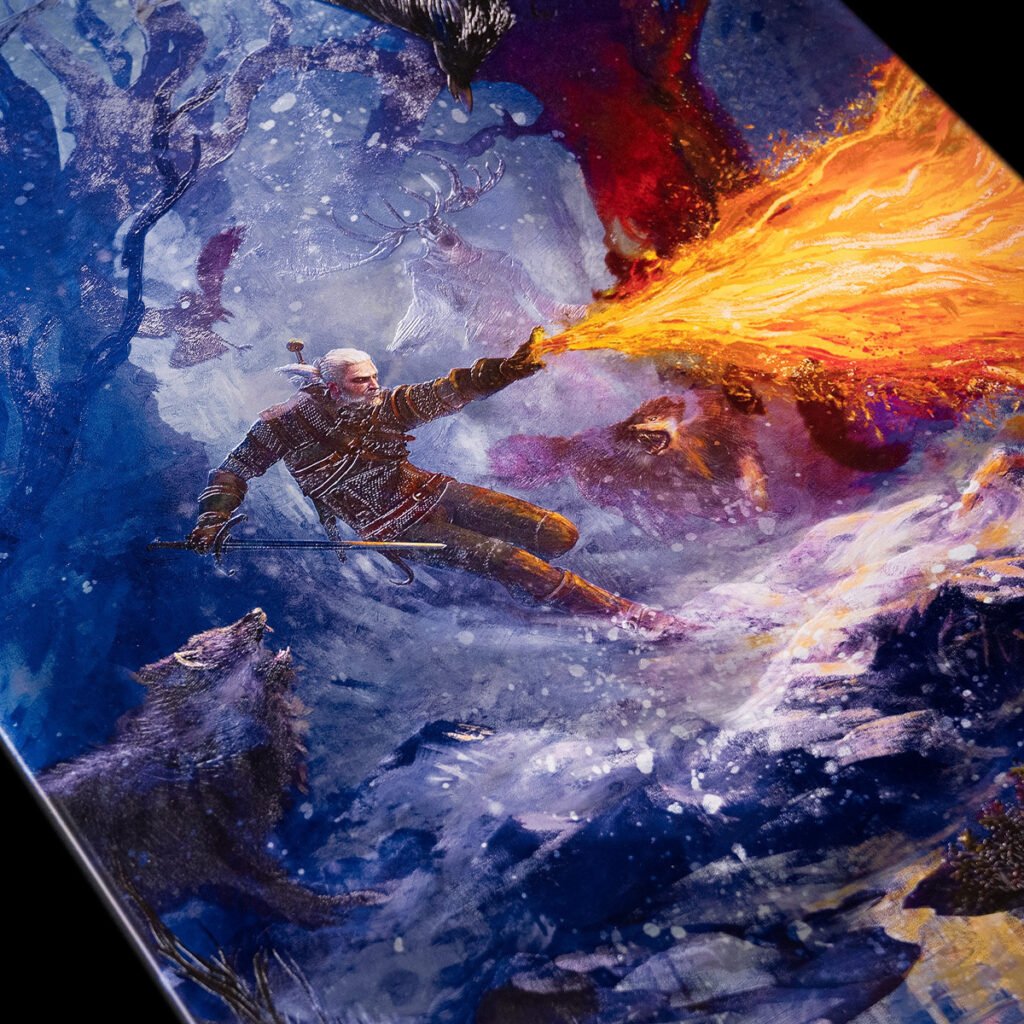 Anato Finnstark takes on a Leshy
A dark fantasy maestro, Anato Finnstark feels like a perfect match for the gloomy and brooding world of CD PROJEKT RED's The Witcher.
With his immaculate illustrative technique, the artist has time and time again proven to be an expert at constructing scenes of epic proportions, blending together bleak and luscious color tones for a sensational effect.
It should come as no surprise that Anato quickly grasped the overall tone of The Witcher universe. For more on that, let's ask the artist himself.
It's not the first time you created art inspired by the world of Andrzej Sapkowski's saga. Which Witcher projects have you previously worked on with CD PROJEKT RED?
I had the great pleasure of collaborating with them on the cover of The Witcher: Witch's Lament comic series, which was released in partnership with Dark Horse Comics and CD PROJEKT RED. I created covers for a total of four issues, plus a special variant for a limited-edition bundle.
Does The Witcher saga inspire your art?
I discovered The Witcher universe with the second game in the series but didn't really feel its full impact until the third one, which was a true revelation. 
Following the release of The Witcher 3: Wild Hunt, I picked up the books as well. I liked them a lot more, but still have a preference for video games – I just like them more as a medium. 
And yes, with certain ideas and visuals etched in my memory, I think the world of The Witcher has become an important influence for me. It's where magic, political intrigue, and fantastical creatures come together to perfection, which is rare enough to be underlined. It's wonderfully exhilarating and inspiring.
What was the process behind this Ultra Limited Edition design?
First, I was trying to create a composition that would put Geralt in a situation with no way out. Usually, he makes it out of extreme positions, and I wanted this scene to convey this dramatic tension where you're not really sure who is the hunter and who is the prey.
I obviously went back and replayed the games, so that I could immerse myself in the atmosphere. I also made some screenshots to get more visual references for my moodboard.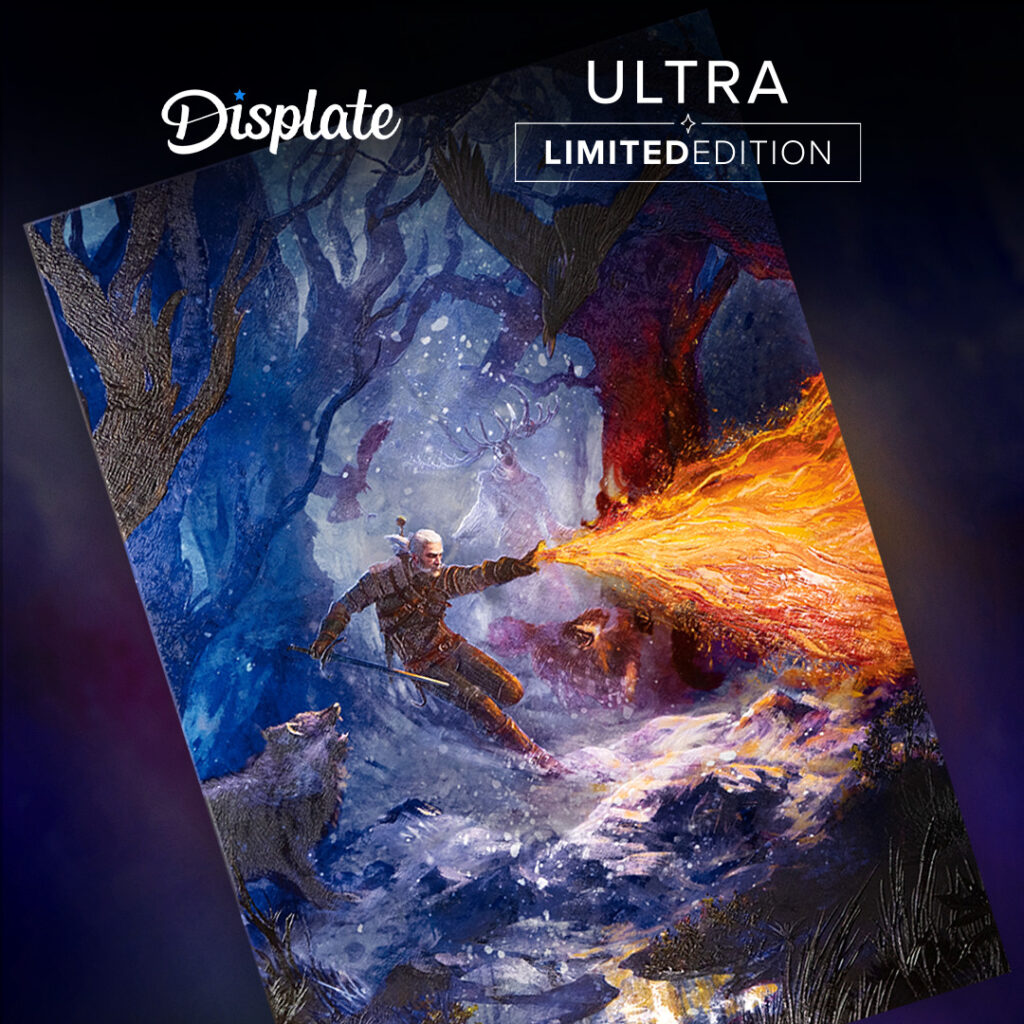 The next step was choosing the right enemy. I wanted to pick a creature that's instantly recognizable, even when covered in mist. Leshy felt like a no-brainer! It's a totally iconic adversary for the series, terrifying and mysterious. That's why I chose an indirect confrontation, suggesting that Leshy is an impending threat that lurks in the background rather than showing him front and center. He's so fascinating there's no need to overemphasize his presence. 
From that moment forward it was a succession of back and forth, juggling all kinds of feedback in order to find the ideal placement of every single enemy and element, so that the scene could be as complete as possible without being illegible.
How do you feel about the fact that you're behind the first-ever Displate Ultra Limited Edition design created in collaboration with a world-renowned brand?
I am obviously honored! It is a type of challenge that makes me feel really happy to do my job. I know many people dream of working on The Witcher and I feel extremely lucky to have been able to do it again. I really hope people will like this piece, because it was a huge challenge that I put a lot of myself into. 
Thanks to CD PROJEKT RED and of course to Displate, for your trust and kindness during the creation process!
The visual alchemy of Displate's Design Studio
Meticulous preparations are an essential part of the witcher craft. And so our Design Studio made sure to brew something special to transform Anato's design into an exceptional metal art piece. Here's how they did it:
Hearing we'd get to create an Ultra Limited Edition project with Anato Finnstark got us really excited. We're huge fans of his distinct style and couldn't wait to bring one of his dark fantasy creations to L size Displate. Then it got even more exciting, as the whole thing turned into a collaboration with CD PROJEKT RED as well! Let's take a good look at what came out of it. 
Yet again, Anato has perfectly used impasto textures to level up the art. We did our best to show them in 3D and make them pop even more. The forest has an amazing vibe, with organically outlined trees and branches helping make the scene more dynamic. There's a lot to uncover here, so you really have to study this artwork inch by inch.
To top off the composition, we applied metallic finish and gave it a frosty, winter feeling. We're really happy with the final result – it's really atmospheric and dramatic. Hope you'll enjoy it as much as we do!
Silver for monsters, metal for your collection
This striking design marks a historical chapter in our own Displate saga. 
The collaboration with Anato Finnstark and CD PROJEKT RED marks the first time ever we've brought together a premium artist and a world-renowned brand to create a stunning Ultra Limited Edition entry. And it's definitely not the last! 
Much like a Leshy hiding deep in the forest, our exclusive series can catch you by surprise. Ultra Limited Edition Displates only drop once a month, available in just a few hundred copies. It's a contract worth taking, so make sure you come well-prepared.