Presented cardboard box decorated with stunning illustrations, the Artful Let's Learn Watercolour Box is the perfect gift for artists looking to take their first steps in watercolour. Filled with an exciting selection of paints, brushes, surfaces, accessories – and even a magazine – this box is sure to inspire and make any budding artist fall in love with watercolour painting. We took a look inside the box and put the materials to the test.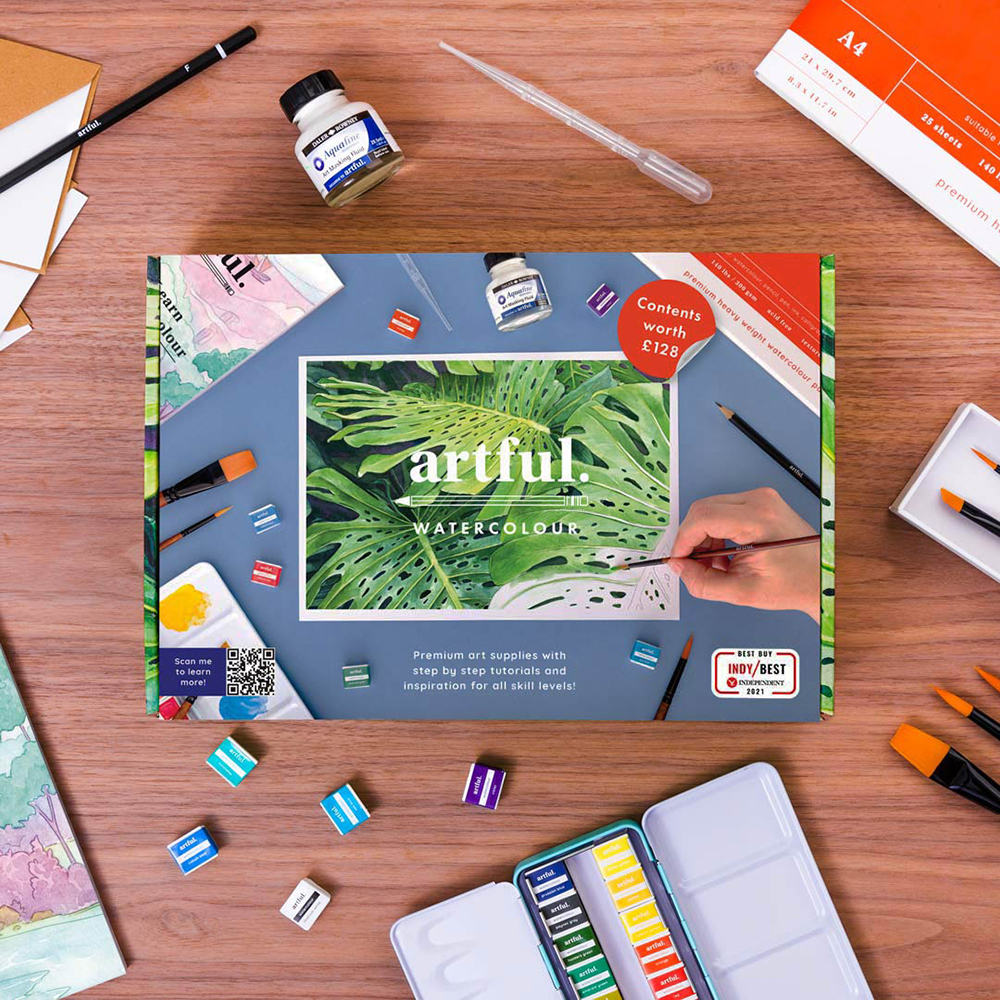 The Artful Let's Learn Watercolour Starter Box is a carefully curated box set that includes a myriad of art materials sure to entice absolute beginners and enthusiastic amateurs. Great for artists looking to explore a new medium, this box is sure to give you a spark of inspiration and includes all the materials you'll need to make a start with watercolour painting. There's an amazing amount of content in this set, so it's sure to keep new artists occupied with new techniques and tutorials for a good while.
What are Artful 'Let's Learn' Boxes?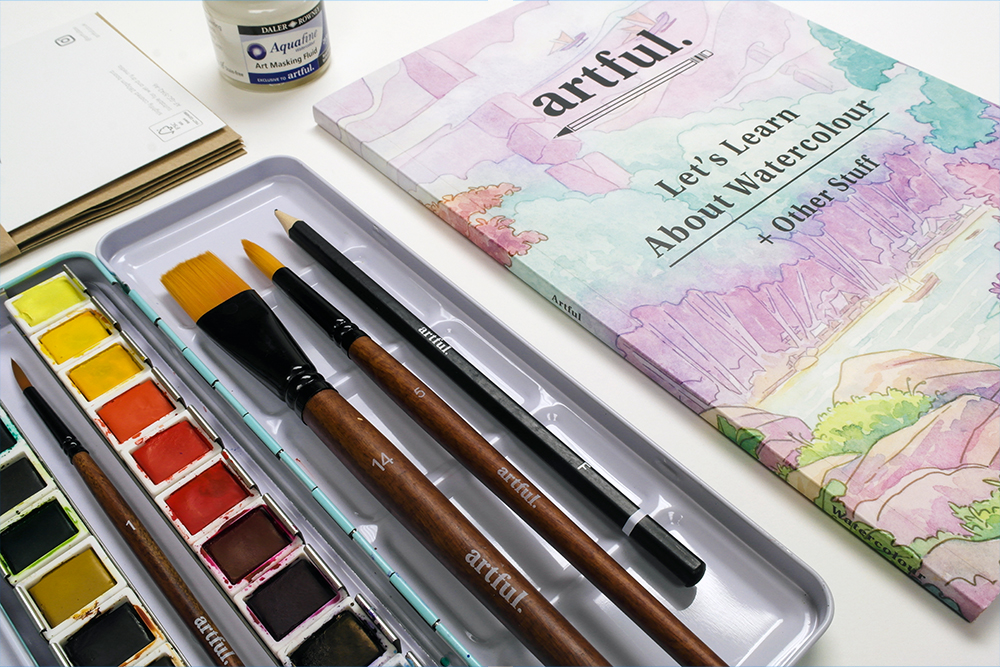 Artful's 'Let's Learn' Art Boxes are perfect for artists looking to explore a new medium. Each set is essentialy an art class in a box. Along with their 'Let's Learn Watercolour' box, we also stock the Gouache and Screen Printing bundles. Each themed set includes a selection of artists colours, supplemented with a variety of tools and accessories tailored toward medium-specific techniques. The high quality materials within each set have been carefully chosen and made to work seamlessly together. This gives you full freedom to try out all the exercises and techniques explored in the set. There'll be no worrying whether you'll need to buy anything extra. These materials aim to inspire so you can expand your technical knowledge and proficiency in art, helping you grow as a creative.
What's Included in the Let's Learn Watercolour Box?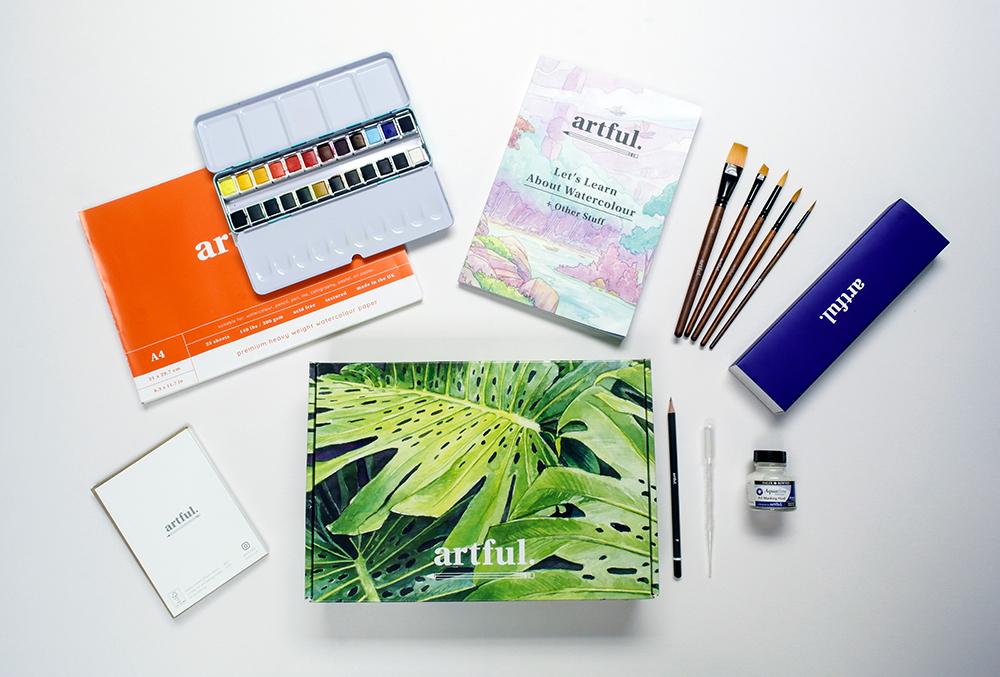 Every 'Let's Learn Watercolour' Starter Box includes:
A set of 24 Artful watercolour half pans in a metal palette box

Lemon Yellow, Yellow, Cadmium Yellow, Orange, Red, Cadmium Red, Rose Red, Magenta, Violet, Turquoise, Cobalt Blue, Sea Blue, Prussian Blue, Hooker's Green, Emerald Green, Olive Green, Tree Green, Yellow Ochre, Umber, Burned Sienna, Brown, Payne's Gray, Coal Black, Titanium White.

1 x Daler Rowney Aquafine Masking Fluid 29.5ml
1 x Artful F Pencil
1 x plastic pipette
5 x Artist Brushes
1 x A4 330gsm Watercolour Paper Pad
4 x Blank Greeting cards
1 x Artful Magazine
We took a closer look at each of the materials to see how they performed.
Watercolour Paints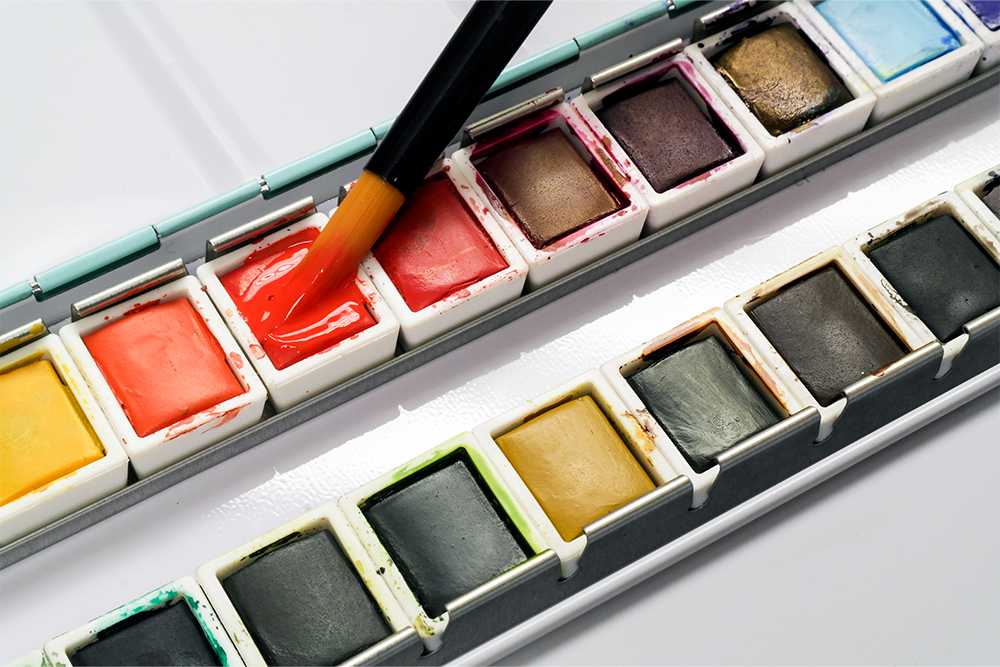 This set of 24 Artful-brand half pan watercolour paints includes a broad range of colours perfect for beginners. There are more than enough colours there to explore colour mixing as well as a good range of secondary hues to use straight from the pan. A sturdy metal paint box holds the paints, and has plenty of space for mixing.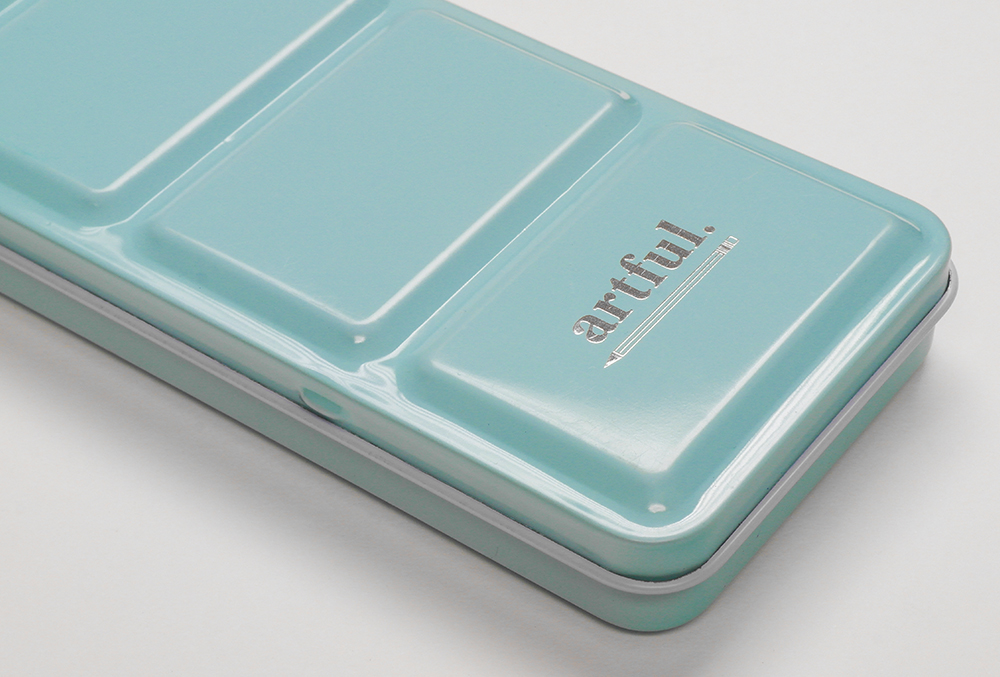 The outside of the box is a beautiful pale blue colour so looks a bit different to the ones you'd usually expect to find in a watercolour set. The colours perform well and are easy to mix.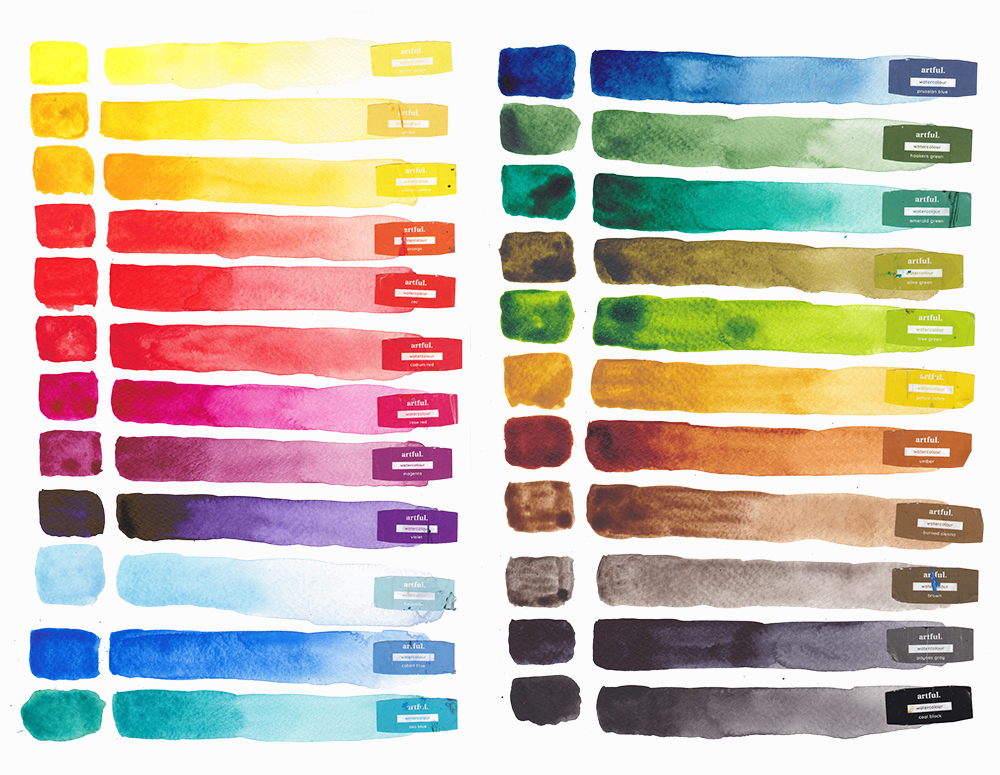 Watercolour Brushes
Five brushes come with each 'Let's Learn Watercolour Set':
Round Brush – Size 1, 4 and 5.
Angled Brush – Size 6
Flat Brush – Size 14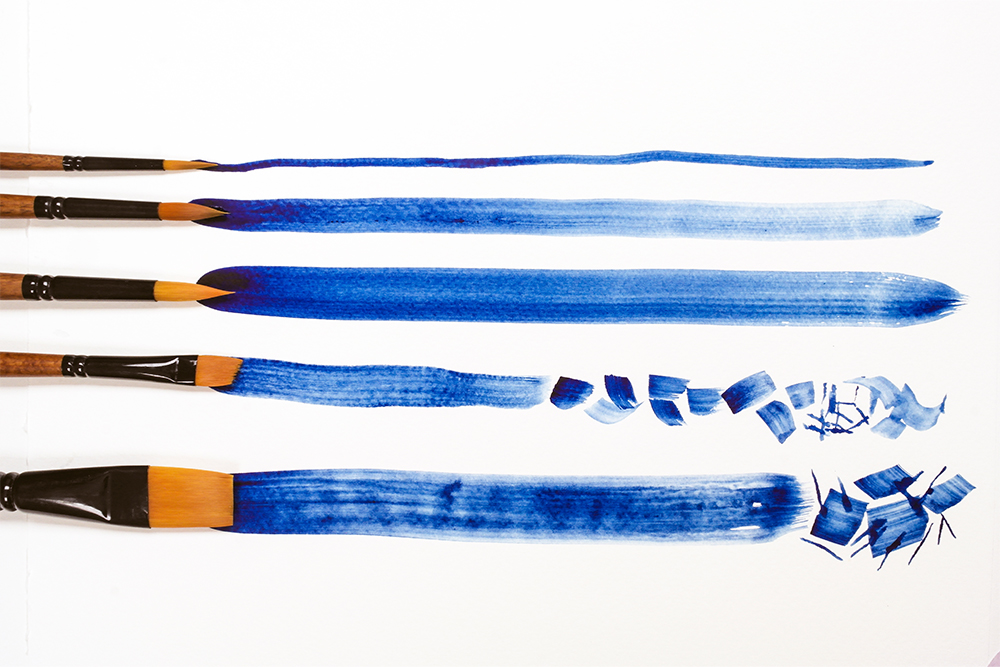 Each brush tip is formed from springy, golden-yellow synthetic fibres that are responsive and durable. They have a lovely wood effect handle that feels great in the hand. The range of shapes and sizes in this set are perfect for anyone starting out in watercolour. The size 1 round keeps a fine point and is perfect for fine detail, while the 4 and 5 are great for medium scale work. The large flat brush is fantastic for blocking out large areas of colour or painting background washes. The angled brush is also a great addition and offers more control than a round brush when painting straight lines. You can also use it for angular strokes, blending and crisp edges.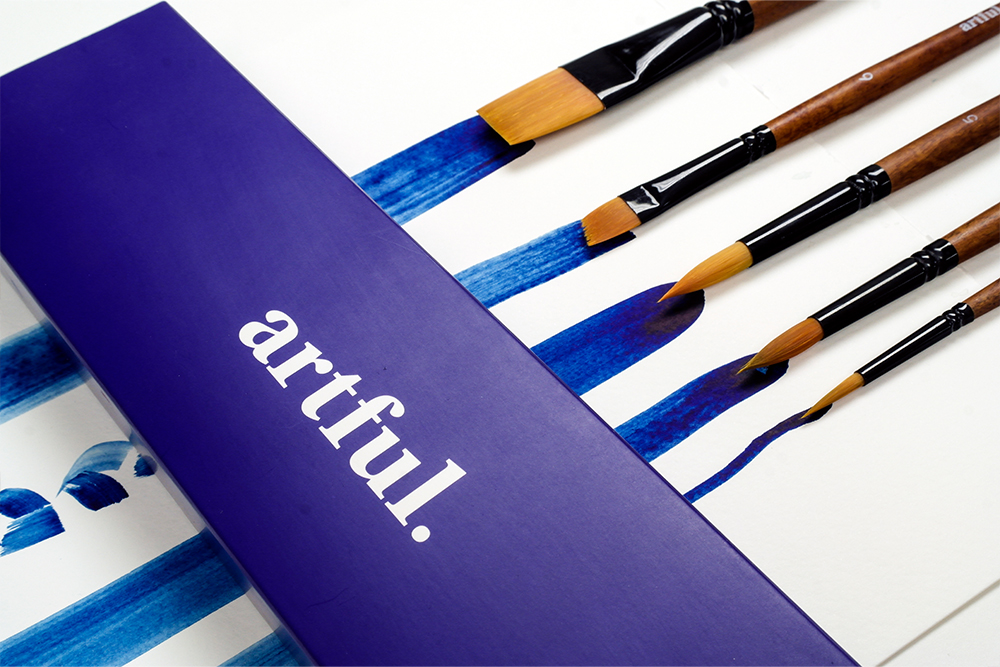 Watercolour Painting Surfaces
There's nothing more important than a good quality surface when watercolour painting – and in this set you have a choice of two. The first of the two is a package of four blank greetings cards. Each card is made from 280gsm uncoated Fedrigoni board which works well with both dry media and light applications of watercolour. Each card has its own kraft paper envelope – perfect for creating your own customised cards for birthdays, anniversaries, Christmas and more!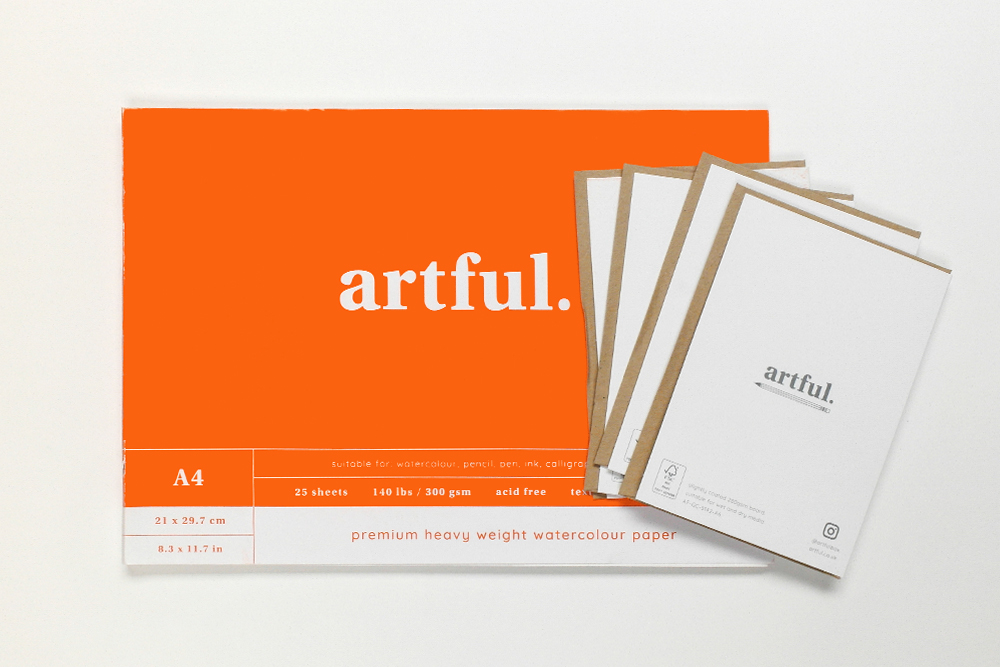 The set also includes an A4 pad filled with 25 sheets of 330gsm watercolour paper. This high quality, heavyweight surface has a medium NOT texture surface and takes a good amount of paint without cockling. It readily accepts watercolour, but also works well with pen, pencil, ink, calligraphy techniques, pastels and more.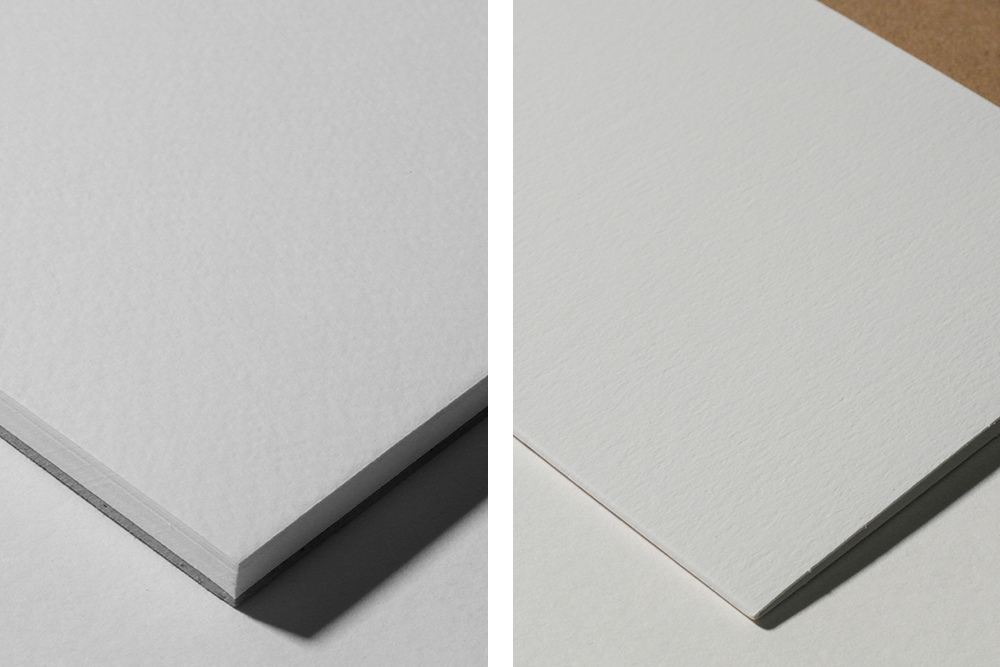 Other Accessories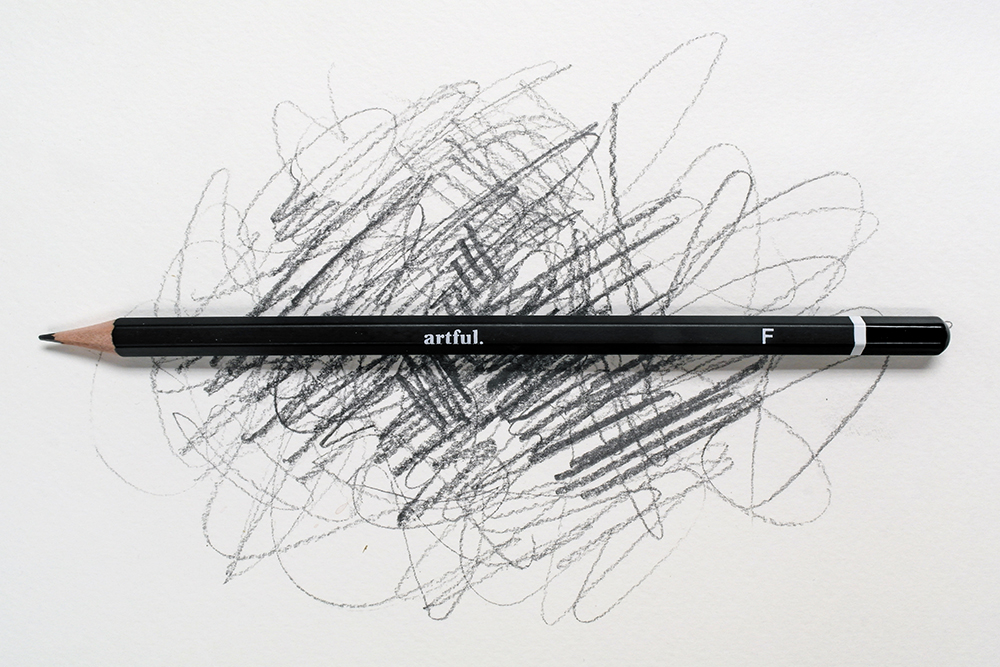 This watercolour box includes a few handy accessories to complement your paints, brushes and paper. An F grade pencil is the perfect for laying down your initial ideas or sketching out compositions. It's hard enough to leave a visible line, but with a delicate hand you'll be able to create light linework that will be easily covered by watercolour paint.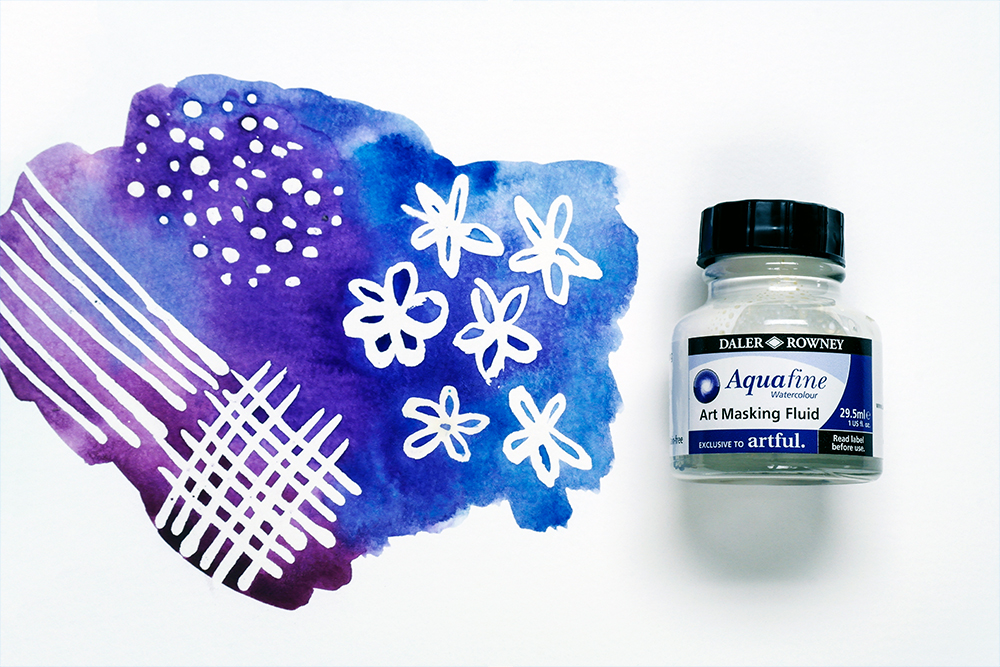 Daler-Rowney Aquafine Masking Fluid lives up to the expectations you'd have of this prestigious brand. Apply it to your watercolour paper and watch as it dries to form a waterproof barrier. The film it creates stops paint from colouring your paper – making it easy to retain highlights and the white of your surface.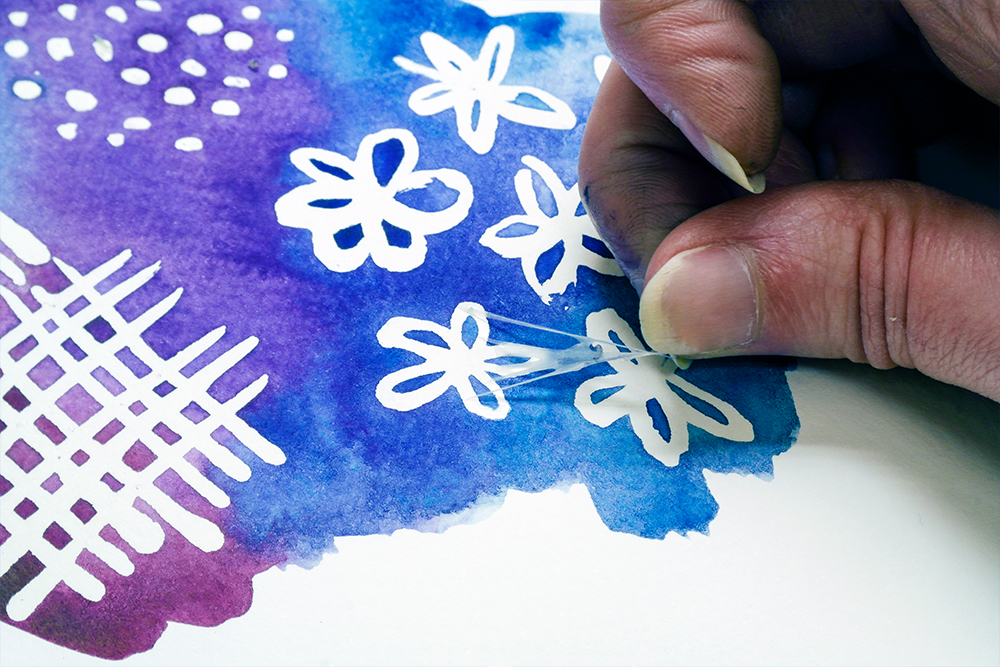 To remove, gently rub or peel. It's important to remember not to apply this to damp or soft sized papers. You can use a brush to apply this fluid, but make sure to clean your brush thoroughly with soapy water. Dry masking fluid can be very difficult remove, and would involve a cleaner like Zest-It Masking Fluid Remover.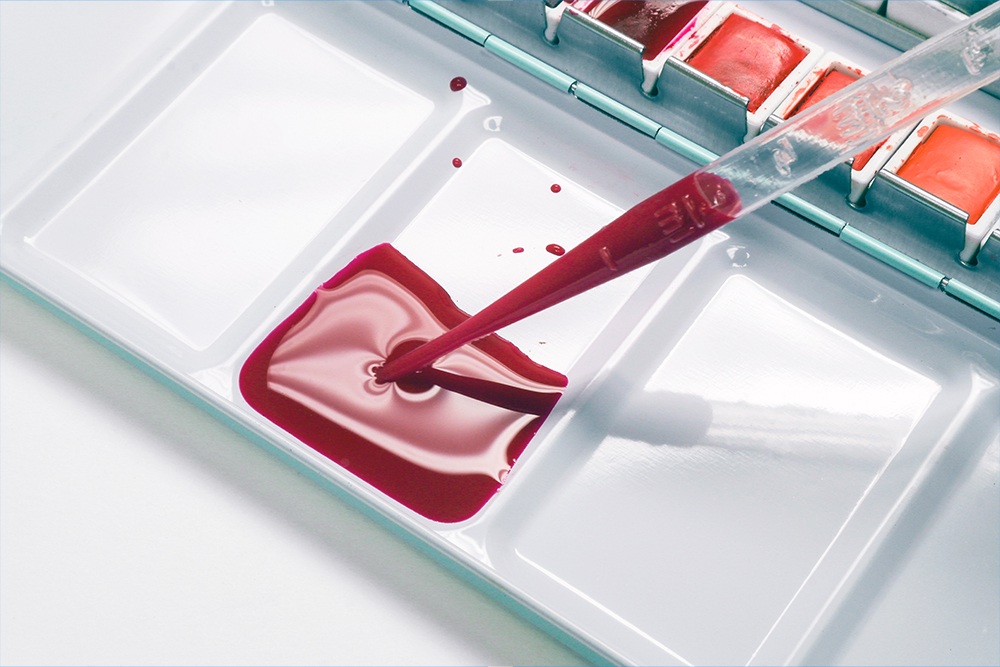 A plastic pipette also comes in the box. You can fill the pipette with colour mixes then drip, splash or dribble paint for interesting effects. Fill it with water and you can also easily drop water onto your paper for wet on wet techniques.
Artful Watercolour Magazine
The Artful Watercolour Magazine feels much more like a book than it does a magazine and is brimming with loads of inspirational content. It includes interviews with artists working in watercolour, who share insight into their methods and techniques.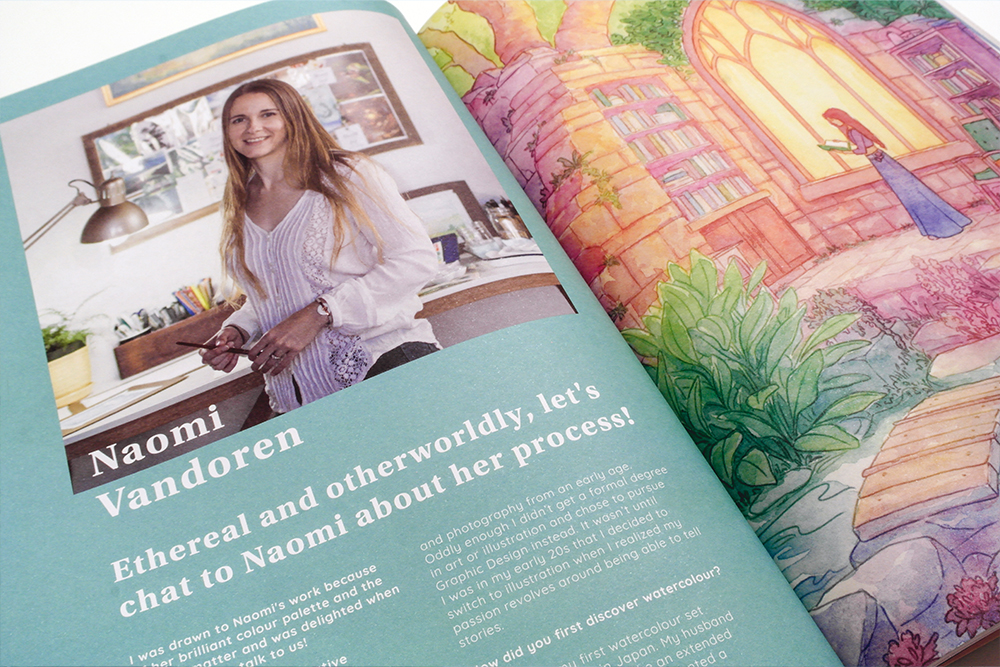 There are also tutorials so you can have a go at creating your own watercolour paintings step-by-step. There's also plenty of information about the basics of the medium including brushwork, colour mixing and more. It's a brilliant read if you're just starting out and want to build your confidence in the medium.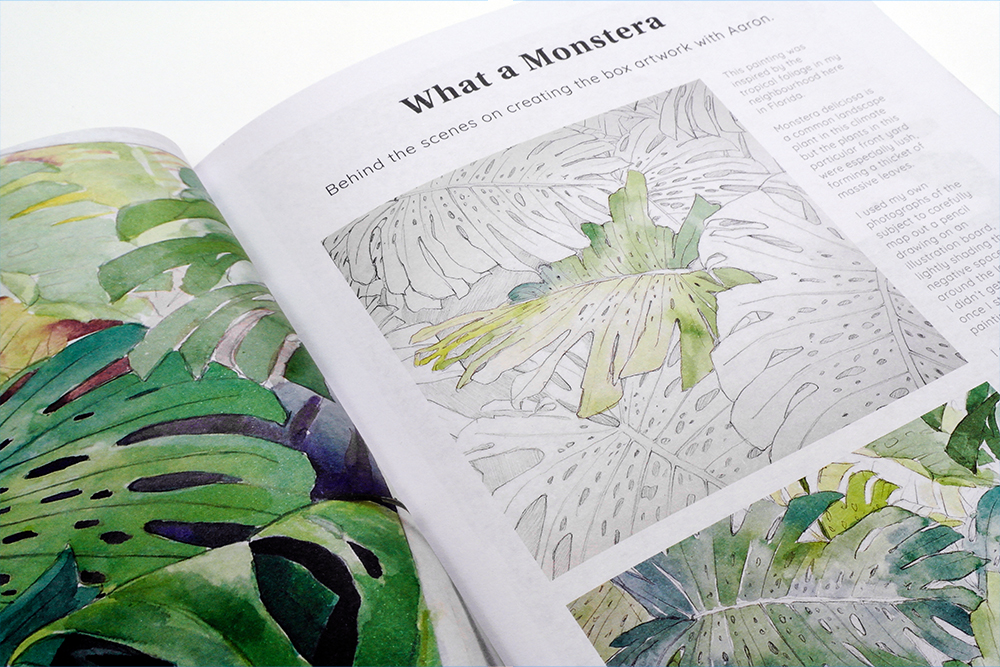 Spark your creativity with the Let's Learn Watercolour Box
Overall, the Let's Learn Watercolour Box is a really inspiring collection of watercolour painting materials. It's a useful, comprehensive and informative set for new artists as well as art enthusiasts looking to explore a new medium. It's beautiful presentation is inspiring in itself and it would make a fantastic gift for any artist interested in watercolour painting (especially with Christmas coming up!) All the materials included are the box are completely free from animal derived ingredients too, so the box would make a brilliant gift for vegan artists.
In addition to the materials within the box, Artful aim to cultivate a thriving artists community online. Each box includes a code to access a vast range of video tutorials on the Artful website. As well as this there's also plenty of content on their YouTube channel and a daily drawing challenge over on their Instagram. So if you're a beginner there's a whole network of places you can get tips, inspiration and more.
Buy your Artful Let's Learn Watercolour Starter Box today or browse our other Artful Art Boxes online.