Lux Eterna is an Australian born interdisciplinary artist working across forms of performance, dance, drawing and lens-based media.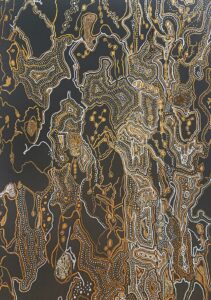 Extending across drawing, performing arts and screen media, Lux's practice has positioned her within many roles – as facilitator for the likes of Marina Abramović; as the live camerawoman for Anna Breckon and Nat Randall's The Second Woman (Liveworks 2017) and Set Piece (Sydney Festival, Rising Festival Melbourne, 2022), and a collaborator on the Keir Choreographic Award in 2020 with Riana Head-Toussaint.
Lux Eterna's experience in live camera work for theatre and dance choreography has also articulated a niche practice in dance film; helping extend new methodologies in mapping the various aspects of performance, art and film and their overlapping nature – as seen of Lux's feature in the book Collaborative Embodied Performance Ecologies of Skill (Bloomsbury, 2021).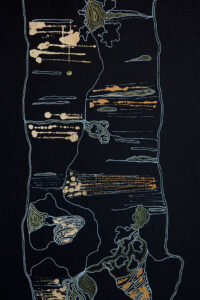 Much of Lux's dance films such as Aura Nox Anima and her previous body of work Decolonising the Gaze are an ode to the collaborative nature of art making where "how we gather and how we co-create is considered the medium." Lux notes her work takes much time, space and commitment from several others to realise.
The dance film Lux Eterna is currently producing in the Australian desert has been three years in the making, involving a cast and crew of 10 people. A thread running through the films and drawings of Lux Eterna is a fascination with landscape, climates, biomes and our post-human futures. Proclaimed as "desert obsessed," Lux states that the desert is an existential provocation, a vast and at times soft void of golden colors and intimidating thunderstorms.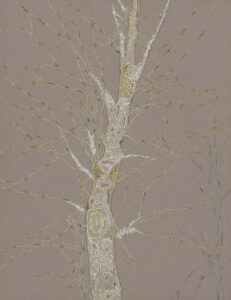 The desert coincides with her solitary practice that raises questions of how we may start to divine ourselves relationally with natural worlds in our post-human past and futures. She notes that to understand this relationship, we must depart from a quotidian life and step into a meditative state to access mystical, often unseen experiences. 
The golden and thunderous darkness of the desert and its reference to that which precedes and extends beyond human nature is reflected in Lux's drawings. The muted pigment ink intensifies detailed intricacies marked out in gold leaf and mirror foil. The softer colours help the viewer relax, inviting them into a quiet dialogue and kinship with the natural world and the non-human. Simultaneously, viewers catch glimpses of themselves in trees and rocks marked out in the gold foil.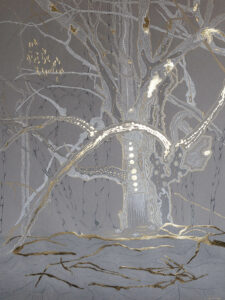 Lux Eterna's work invites a sort of embodied spectatorship that aligns with what she calls "a land informed spirituality." Here, viewers see themselves as part of a collective narrative with the natural world – as symbiotic, embedded within and not separated from it.
Making her The Other Art Fair debut this December 1-4, Lux Eterna is bringing a series of 2D detailed drawings, hand gilt with 24K gold leaf and mirror foil.